With a break in the NBA playoff schedule, Sacramento Kings mascot Slamson decided to get away from basketball for a day, opting to go skiing Saturday at Sugar Bowl ski resort in Lake Tahoe.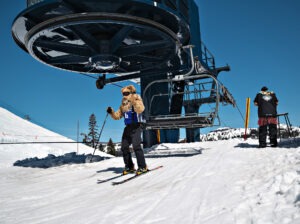 The Kings beloved mascot got out on the slopes for some spring skiing at Sugar Bowl, where the resort was definitely in party mode.
The party atmosphere included music from multiple DJs, live music, a pop-up tiki bar, and a snow beach viewing area to watch the often comical pond skimming action.
Slamson wasn't the only one dressed for the occasion. Sugar Bowl ran its annual "Tiki Pond Skim" that included costumed skiers and riders attempting to cross the pond between the Disney and Nob Hill chairlifts, located close to the Village Lodge base area.
A lovable lion, Slamson has been busy in April. The Kings made the playoffs this season for the first time in 17 seasons. Sacramento opened the playoffs at Golden 1 Center by defeating the defending champion Golden State Warriors in the first two games of the seven-game series.
The Warriors rebounded with a victory in Game 3 on Thursday and host the Kings again Sunday (12:30 pm) in Game 4.
But the playoffs weren't top-of-mind Saturday for Slamson. The sun was out and the snowpack was deep at Sugar Bowl, whose 792 inches of snow this season is the most among all Tahoe ski resorts.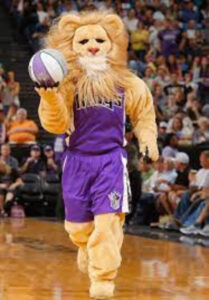 After a long unseasonably cold and snowy winter, spring skiing feels even more delightful than usual. Winter lasted nearly six months at Tahoe ski resorts this season and it packed a punch with all the snowy days. A beautiful week of spring-like weather is in the forecast for Tahoe ski resorts.
"Now that it seems that spring has finally arrived, skiers and riders are rocking their funky spring outfits and working on their goggle tans – we have some catching up to do," a Sugar Bowl press release stated.
CLOSING TIME: Sugar Bowl will remain open daily through Sunday (April 23), then host its "Encore Weekend" on April 29-30. During the final weekend, operations will be offered out of the Village side of the resort, with the Christmas Tree, Mt. Lincoln Express, Nob Hill and Mt. Disney Express lifts operating.
"With all this snow, we wanted to give skiers and riders more time to spend time in the mountains making turns and enjoying this historic snow season," said Bridget Legnavsky, Sugar Bowl president and CEO. "We've decided to spin the lifts for an Encore Weekend of fun. It's an opportunity for us to thank our guests and staff, and enjoy the reason we are all here … the skiing."
THREE MORE SKI RESORTS CLOSE SUNDAY: Three Tahoe ski resorts will pull down the curtain Sunday on a memorable season where most resorts stayed open later than planned, thanks to the enormous snow totals.
Closing Sunday will be Sierra-at-Tahoe, Boreal Mountain and Soda Springs. That brings the total of closed Tahoe ski resorts to six. The good news is seven resorts will remain open through next weekend when three more resorts shut down.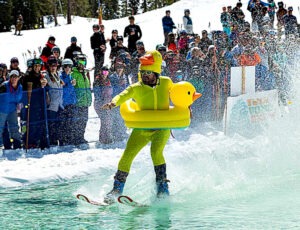 Palisades Tahoe has ambitious plans of remaining open through July 4. The resort has received a record 710 inches in the 2022-23 season and will keep the Alpine side of the resort open through July 4.
CLOSING DATES, SEASON SNOW TOTALS