SkiLynx can change the way a family or a group of friends ski. The new app for skiers and snowboarders arrived to the App Store for Apple Watch just in time for the 2015-16 winter season.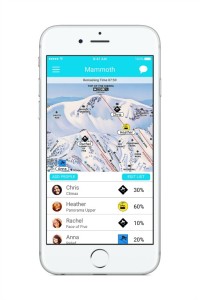 SkiLynx, the newest app from the wearable software visionaries at Wearlynx, uses real-time location tracking and one-tap chat to let you effortlessly stay connected with friends on the slopes through your Apple Watch or iPhone.
SkiLynx's first version, SkiLynx California, launched in the App Store on Dec. 10, covering all of California's top resorts, including Squaw Valley | Alpine Meadows, Mammoth Mountain, Northstar California, Heavenly, Bear Valley and many more.
The SkiLynx California app for Apple Watch and iPhone is available exclusively on the App Store. Skiers can download the app for $2.99 starting today at itunes.apple.com/app/id969228592.
Pick the friends or family you are skiing with that day, using SkiLynx's one-touch invite-only group creation. Then, with a quick look at your Apple Watch, SkiLynx lets you see exactly what run or chairlift each person in your group is on, in real-time, including the run difficulty rating, their percentage down the trail, and their current location on the resort map.
Customizable quick messages let you chat with your group with just ONE tap – and with Apple Watch, you can keep your iPhone safely in your pocket and chat with the group by using the microphone on Apple Watch.
With SkiLynx, everyone can effortlessly stay in touch on the mountain, whether you are trying to meet up with friends at the lift, or just letting parents or your significant other share your ski experience from the base lodge.
"SkiLynx combines the latest in mobile and wearable technologies to make your day on the slopes even more social and fun," says Sarah W. Stocker, co-founder of Wearlynx, Inc. "SkiLynx automatically connects you with your friends so you're freed up to enjoy the snow."
SkiLynx also offers several functions never before seen in apps for skiers and snowboarders. With the platform's integrated GPS and resort trail maps, SkiLynx knows exactly where you are, even if you do not, and offers location-aware hashtags that let you automatically insert your current location into a message with a single touch. "Meet me at #here" becomes "Meet me at Siberia Bowl" when you are skiing Siberia Bowl, or "Meet me at Base Lodge" when you're at the base lodge.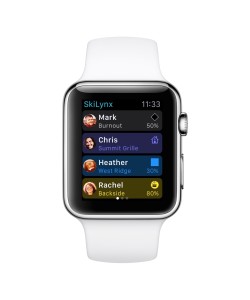 Because SkiLynx's advanced mapping system knows if you are riding up a lift or skiing down a run, the app also offers the ability to track actual miles skied or snowboarded, unlike most ski apps which can only track your "vertical feet."
"At Wearlynx, we love to take innovative technologies and complex systems and create simple, elegant experiences that make technology work for you," said Mark Danks, Wearlynx, Inc. co-founder.
In addition to location tracking and one-tap texting with friends or family, SkiLynx also offers the latest weather updates, open chairlift and trail counts at each resort, and a My Ski Day summary email at the end of the day with the group's ski history and favorite runs. While the app is optimized to work with the Apple Watch, it also functions on iPhone.
SkiLynx debuts with SkiLynx California, and the platform will expand to include resorts in the Colorado, Utah and Wyoming by mid-winter.
Jeffrey Weidel can be reached at [email protected]. Follow him on Twitter at @jeffweidel and visit his website at www.tahoeskiworld.com.