Safety on the slopes is important for every skier or snowboarder. No one wants to be injured, whether it's a mild one or something serious.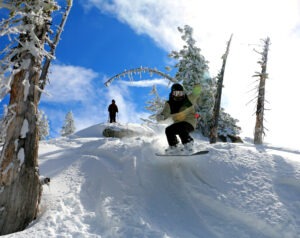 Ski California's fifth annual safety day returns Saturday (Jan. 28) with resorts in California and Nevada gearing up to offer a variety of safety-themed activities to educate guests about the importance of skiing and riding safely. This year, resorts are focused on Ski California's updated, digital Mountain Safety Guide that gives visitors a common set of safety guidelines.
"We created the Mountain Safety Guide as a tool to educate skiers and riders about staying safe and making good decisions on the slopes, and Safety Day presents a unique opportunity to highlight the simple, informative messages included in the guide to encourage resort guests to be our partners in safety," said Michael Reitzell, Ski California president.
The Mountain Safety Guide offers safety tools and information relevant to skiers and riders of all experience and ability levels, including:
What to know before you ski & ride
Being safe on the slopes: staying in control, avoiding collisions, riding lifts, and more
Snow safety, including deep snow and avalanche awareness
Readers of the guide will also learn the newly updated Your Responsibility Code and the Ski California member resorts' commitment to safety.
Although not an exhaustive list, in addition to education through their social media channels throughout the month (using #skicalifornia #mountainsafetyguide and #skicaliforniasafetyday), sharing the Ski California Mountain Safety Guide and airing Ski California's full reel of safety videos.
These Tahoe ski resorts below will be offering programs to support Safety Day this year.
Diamond Peak: Ski Safety Bingo and opportunities to meet the resort's ski patrol director and patrol dog will occur throughout the day, and safety tools and videos will be shared on Diamond Peak's Instagram stories. Advanced skiers and riders are invited to shadow the resort's ski patrol at the end of the day as they sweep the mountain on Jan. 28. Interested guests should meet outside the patrol shack at Eagle's Nest at the top of Crystal Ridge at 3:50 p.m. to participate and must have a valid lift ticket or season pass to participate.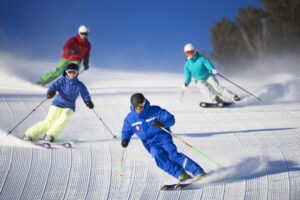 Heavenly: Education sessions will take place at the top of each hour from 10 a.m. to 2 p.m. covering topics including chairlift safety, skier and rider responsibilities, terrain park safety, helmet safety and usage, and avalanche and deep snow safety. Skiers and riders who attend the free sessions will be permitted to use the ski school lane at the Sky and Canyon lifts to skip the line and will have opportunities to win prizes including a beacon, shovel, probe and helmets. The resort will also share the Ski California Mountain Safety Guide, videos and the NSAA's updated Your Responsibility Code on its social media channels throughout the day.
Mt. Rose Ski Tahoe: The resort's ski patrol will host a meet and greet with the patrol dogs at the Main Lodge, and transceiver training will occur from 9 a.m. to 12 p.m. near the totem pole off Easy Street.
Palisades Tahoe: Leading up to Ski California Safety Day, Palisades Tahoe has hosted a series of free beacon practice events and avalanche dog demonstrations, with the next beacon practice scheduled for Jan. 26 at the base of the Subway lift at Alpine (advance registration encouraged). The resort is also leveraging its social media channels and digital signs to promote the Ski California Mountain Safety Guide and safety messages.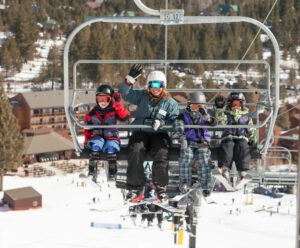 Sierra-at-Tahoe: All week long (Jan. 23-29), the resort will offer 15% off helmets at its retail store, and in advance of Safety Day, the Mountain Safety Guide will be shared on the resort's social media channels. Sierra's ski patrol will takeover Instagram on Friday and answer questions, and on Safety Day itself, a variety of activities are planned including a #showusyoursafety contest, an Avy Dog meet and greet at the top of Grandview at 10:30 a.m, National Ski Patrol recruitment event, Alec helmet headphones demo, and the documentary release of "Heart on Fire," which premiered at the Tahoe Adventure Film Festival at 3:30 p.m. in the Pub.
Tahoe Donner: The resort will host a scavenger hunt and coloring contests encouraging children to draw pictures that align with safety day messages. Participants will receive a 25% discount on Smith helmets and goggles at the resort's retail store.
Boreal Mountain Resort | Woodward Tahoe: Resort staff will educate guests about helmet safety, Park S.M.A.R.T., Your Responsibility Code, and will award raffle tickets for a chance to win a Boreal season pass to every skier and rider who passes through the entry ticket gate with a helmet who correctly answers quiz questions from the Ski California Mountain Safety Guide. Representatives from the High Fives Foundation will also be on hand to highlight their Helmets Are Cool and B.A.S.I.C.S. campaigns.
Review and learn the Ski California Mountain Safety Guide and take the quiz for a chance to win a 2023-24 Ski CA Gold Pass (value $3,750) at https://safety.skicalifornia.org/.