Thanks to three straight days of snow, six Tahoe ski resorts will be open for Thanksgiving Day.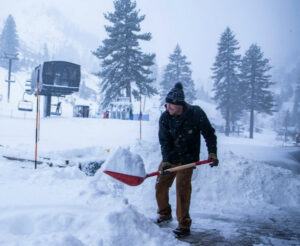 Following a mostly dry November with zero snowfall, Mother Nature has hit the Lake Tahoe region hard over the past three days. Many Tahoe ski resorts received more than a foot of snow by Wednesday (Nov. 27) morning and the dumping continued into the afternoon and evening. And the next two weeks are nearly full of possible snow days.
Five Tahoe ski resorts were running lifts Wednesday for skiers and snowboarders – Mt. Rose, Squaw Valley, Alpine Meadows, Boreal Mountain and Heavenly Mountain, which had its season opener. A sixth resort – family-friendly Soda Springs – will open Thanksgiving Day.
"Heavenly opened today with 11 inches of fresh snow," said Heavenly spokesperson Russell Carlton. "That, combined with our snowmaking efforts, created a memorable opening day. It is still early season, so skiers and riders should be mindful that early season snowfall is creating a base. Conditions are not mid-winter following one storm. We're excited to continue to make snow and welcome the assistance from Mother Nature. We expect to open more terrain soon."
See the list below for opening dates of all Tahoe ski resorts.
Sierra-at-Tahoe will open for the 2019-20 season Friday (Nov. 30). Also opening Friday will be Sugar Bowl and two Vail Resorts – Northstar California and Kirkwood Mountain.
"It truly looks like winter on the mountain right now, and we can't wait to kick off the season with our Sierra family this Friday," said John Rice, Sierra-at-Tahoe General Manager. "More snow is forecasted to fall throughout the week and into the weekend. Our team will continue to assess conditions to see what terrain we can offer our guests."
Snowfall totals this week include Boreal 21 inches, Mt. Rose 20 inches and Squaw Valley Alpine Meadows 18 inches.
Snow is expected to continue in the Tahoe region through the weekend. An additional 10 to 18 inches is forecast to fall at elevations above 7,000 between Wednesday morning and Thursday afternoon, according to the National Weather Service office in Reno. Lower elevations could see another 5 to 10 inches of snow.
Not surprisingly, the snow storms have made driving hazardous.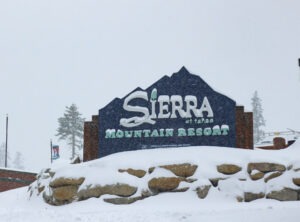 "Avoid travel if possible, you could be stuck in your vehicle for many hours," the NWS stated in an advisory. "If you must travel, prepare for long delays and carry tire chains, an emergency kit with extra food, water and proper clothing. If you stay home, have a backup plan in case of power outages."
OPENING DATES TAHOE SKI RESORTS (All dates are weather dependent)
Mt. Rose: Opened October 25
Squaw Valley: Opened November 15
Alpine Meadows: Opened November 15
Boreal Mountain: Opened November 23
Heavenly Mountain: Opened November 27
Soda Springs: November 28
Sugar Bowl: November 29
Northstar California: November 29
Kirkwood Mountain: November 29
Sierra-at-Tahoe: November 29
Homewood Mountain: December 6
Diamond Peak: December 12
Granlibakken: December 13
Tahoe Donner: December 13