The first snowpack survey measurements for 2020 resulted in some good news from the California Department of Water Resources.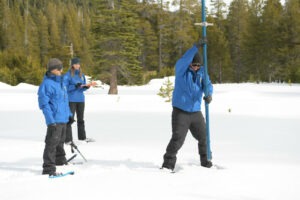 The measurements were taken at Philips Station in South Lake Tahoe and revealed a snow depth of 33.5 inches and a snow water equivalent (SWE) of 11 inches, which is 97 percent of the average for the month of January. The SWE measurements, done near Sierra-at-Tahoe ski resort off Highway 50, records the amount of water contained in the snowpack, which provides a more accurate forecast of spring runoff.
CHECK OUT SEASON SNOW TOTALS (below) FOR ALL 14 TAHOE RESORTS
A year ago, the snowpack was 25.5 inches of snow and 80 percent of average. That measurement took place before all of the heavy winter storms experienced in 2019. The statewide average is at 90 percent.
This fall was one of the driest starts to the rainy season in modern California history. PG&E was shutting off power to tens of thousands of Californians as dangerously dry fire weather dragged on nearly to Thanksgiving.
Despite a lack of snow for much of November, the first survey Jan. 2 was a good one, thanks to a series of storms right before Thanksgiving that continued into much of December. The snow has made for good early-season snow conditions at Tahoe ski resorts.
"While the series of cold weather storms in November and December has provided a good start to the 2020 snowpack, precipitation in Northern California is still below average for this time of year," said DWR Director Karla Nemeth. "We must remember how variable California's climate is and what a profound impact climate change has on our snowpack."
California traditionally receives about 75 percent of its annual precipitation during December, January and February. The bulk of the precipitation comes from atmospheric rivers. Similar to last year, California experienced a dry start to this water year followed by cold, wet December storms that brought the state up to 74 percent of average annual precipitation for this time of year.
The Phillips Station snow course is one of more than 260 snow courses across the Sierra Nevada that DWR manually or electronically measures each winter and early spring. Data collected from the monthly snow surveys help determine the amount of water that will melt and run off to state reservoirs during warmer months. The information is critical to the water managers who allocate California's natural water resources to regions downstream.
The purpose is to measure the water content in the snowpack, which is a key indicator for the state's water supply. They survey is done five times a year.
Sean de Guzman, Chief of Department of Water Resources' Snow Surveys and Water Supply Forecasting Section, along with Dr. Michael Anderson, DWR's State Climatologist, conducted the snow survey at Phillips Station.
Climate change is expected to lead to continued warming and fewer but more intense storms impacting the snowpack of the Sierra Nevada. These changes continue to impact the distribution.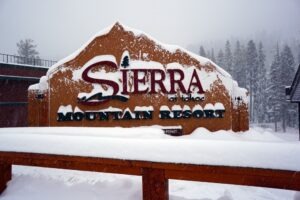 "It's still too early to predict what the remainder of the year will bring in terms of snowpack," DeGuzman said. "Climate change is altering the balance of rain and snow in California. That is why it is important to maintain our measurements of the snowpack to document the change in addition to having critical information to forecast spring runoff."
SEASON SNOW TOTALS (Jan. 3)
Sierra-at-Tahoe: 160 inches
Kirkwood Mountain: 158 inches
Squaw Valley: 151 inches
Northstar California: 149 inches
Mt. Rose: 148 inches
Alpine Meadows: 145 inches
Sugar Bowl: 141 inches
Soda Springs: 138 inches
Boreal Mountain: 138 inches
Heavenly Mountain: 138 inches
Homewood Mountain: 115 inches
Diamond Peak: 83 inches
Tahoe Donner: NA
Granlibakken: NA