There's good news concerning the current Sierra snowpack. Seasonably, there's lots of snow for early December, providing good skiing and snowboarding conditions.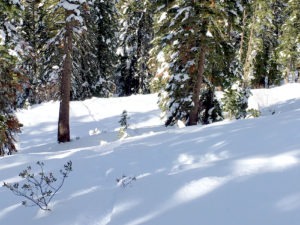 The heavy storms in the Sierra that arrived in late November and continued into December boosted the statewide snowpack to more than 100 percent of normal for this time of year, according to California Department of Water Resources.
The most recent Sierra snowpack surveys, taken Dec. 5, stood at 106 percent of normal across California, and were higher in some parts of the mountain range.
The central Sierra, from Tahoe to Yosemite, was at 113 percent of average, while the south Sierra was at 125 percent of average on Dec. 6, thanks to a huge storm that brought sizable snow totals to Mono County.
It's more than double last year's totals for the same time frame. Statewide snowpack was 50 percent of average or less by early December 2017.
This month's snowpack may grow even more. Some rain and snow are forecast throughout this week, according to National Weather Service Reno. However, the totals are not expected to be impressive (see snow report below).
NASA satellite images showed a snow-less California as late as Nov. 20. By Dec. 2, most of the Sierra was white-capped.
Multiple weather systems over the previous two-week period led to snowstorms and travel delays on Highway 50 heading into Lake Tahoe. There were near whiteout conditions several times in isolated areas and considerable fresh snow at Lake Tahoe ski resorts.
Snow Report: Following a modest dusting of snow Monday (Dec. 10). It should warm up again into the 40's at lake level and 30's in the upper elevations. Upper mountain winds may gust to 40 mph Wednesday.
The next storm moves through to the north of Lake Tahoe by Friday. But the Friday storm is falling apart. There should be some clouds and gusty winds, and maybe a few snow showers. But not much measurable snowfall.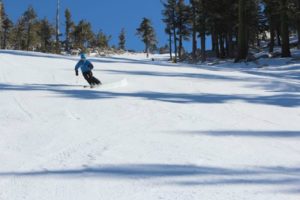 After a break Saturday, another storm Sunday night is starting to show signs of splitting as well. However, right now it looks like it could hold together enough for several inches of snow. The trend is toward drier, so the storm could bring some measurable snowfall.
Long range, it looks like a drier pattern sets up the week of Dec. 17th. There are no signs of a significant storm the next 2 weeks.
Tahoe Ski Resort Openings
Boreal Mountain: Open
Diamond Peak: Dec. 13
Heavenly Mountain: Open
Granlibakken: Dec. 14
Homewood Mountain: Open
Kirkwood Mountain: Open
Mt. Rose: Open
Northstar California: Open
Sierra-at-Tahoe: Open
Soda Springs: Open
Squaw Valley Alpine Meadows: Open
Sugar Bowl: Open
Tahoe Donner: Open