It's no secret that's it's been a poor season for snow at Tahoe ski resorts.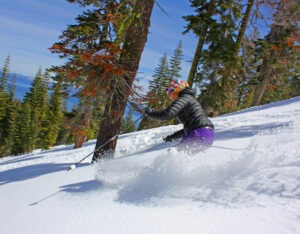 Heading into March, there were only six Tahoe ski resorts with 200 or more inches with probably another month to six weeks left in the 2020-21 season.
Squaw Valley Alpine Meadows is the big winner in snowfall, giving the resort the most snow this season in the Tahoe region. Squaw Valley is reporting 233 inches and Alpine Meadows has 232 inches. Sugar Bowl is next with 224 inches.
CHECK OUT TAHOE SKI RESORT SEASON 
SNOW TOTALS BELOW
So, it comes as no surprise that Tuesday's (March 2) Sierra Nevada snowpack survey came up lacking. According to the California Department of Water Resources, Tuesday's measurement was just 61-percent of its historical average for this date.
"Absent of a series of strong storms in March or April, we are going to end with a critically dry year on the heels of last year's dry conditions," said Karla Nemeth, director of the state Department of Water Resources. "With back-to-back dry years, water efficiency and drought preparedness are more important than ever."
The last major system to hit the state and the Lake Tahoe region concluded a month ago. An atmospheric river provided some nice snow totals for an extended period at Tahoe ski resorts.
A roughly 10-day period that ended Feb. 2 dropped between 4-7 feet of new snow. The snow conditions in late January and early February were easily the best of the season.
However, weeks of unusually sunny, dry weather has taken place since that snowy period. As a result, this winter is shaping up to be similar to 2014, say state water officials. California was firmly in the middle of its historic 2012-2016 drought.
According to meteorologist Jan Null, the Northern Sierra Nevada is suffering through it sixth driest season. This year has been historically dry. The seven-month period from July 1 to the end of February has been the seventh driest in San Francisco in the past 172 years – since 1849 when records began.
Typically, December, January, February and March are the four wettest months of the year in California. Some snow is forecast for this weekend in the Tahoe region. However, water officials say it won't be enough to help the state out of its a deep snow and rainfall deficit.
Snowfall totals each winter are crucial to the state's water picture. The snow that forms a major frozen reservoir over California's 400-mile Sierra range provides nearly one-third of the state's water supply for cities and farms as it slowly melts in the spring and summer.
The melting snow sends billions of gallons of fresh water down dozens of rivers and streams, that ultimately winds up in reservoirs.
EXTENDED FORECAST: According to Bryan Allegretto, California Snow Forecaster for OpenSnow.com, a weak system could bring light snow (1-4 inches) Saturday to Tahoe ski resorts. There will likely be a weather break Sunday, followed by a more active pattern next week.
"We could see light snow by Monday afternoon and into Tuesday as the next low-pressure center spins south down the West Coast," writes Allegretto. "There's no overly heavy snow expected right now, but the snow could pile up nicely on the mountains through the week with these cold systems."
TAHOE SNOW TOTALS (season totals, March 2)
Squaw Valley: 233 inches
Alpine Meadows: 232 inches
Sugar Bowl: 224 inches
Boreal: 220 inches
Soda Springs: 219 inches
Sierra-at-Tahoe: 215 inches
Homewood: 195 inches
Kirkwood: 195 inches
Northstar: 167 inches
Mt. Rose: 166 inches
Heavenly: 150 inches
Tahoe Donner: 146 inches
Diamond Peak: 133 inches