Sierra-at-Tahoe was overjoyed after the first snowfall this season at Tahoe ski resorts delivered 20 inches of fresh snow.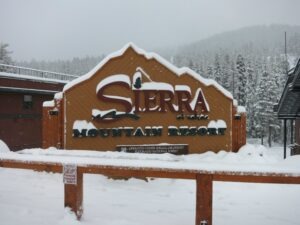 Like all Tahoe ski resorts Tuesday (Nov. 10), Sierra-at-Tahoe remains closed despite the accumulation of snow from the recent storm that started on the weekend and concluded Monday morning.
Mother Nature was kind to Sugar Bowl as well. The resort, located off Interstate 80 at the Norden exit, was reporting 10 inches of new snow. Also getting 10 inches were Boreal Mountain and Soda Springs.
"This provides us with a great opportunity to offer further details on what to expect this season while at the resort," Sugar Bowl wrote in a press briefing. "As you know, this winter will be different in many ways (due to the coronavirus), but some things just won't change like our commitment to your health and safety."
See Lake Tahoe Snow Report below.
Homewood Mountain received 9 inches of snow, while both Diamond Peak and Mt. Rose reported 8 inches. Homewood recently announced it will open the season Dec. 11.
Squaw Valley Alpine Meadows was overjoyed with the amount of snow it received by Sunday morning (Nov. 8). Squaw-Alpine was reporting 9 inches of snow overnight at its upper mountain and 5-8 inches total at the base.
Squaw-Alpine plans to kick off the 2020-21 season Wednesday, Nov. 25, weather and conditions permitting. Passholders will have the best and most flexible access to the resort, with no reservations currently required to access the mountain.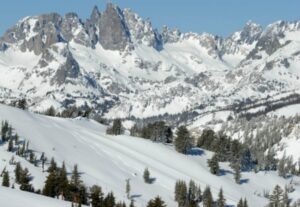 The three Vail Resorts in Tahoe – Northstar, Heavenly, Kirkwood – did not report their snow totals.
Due to the cold evening temperatures that have dipped to single digits on several occasions, many Tahoe ski resorts have been making snow the past few weeks. A powerful cold front blew into the Tahoe region Saturday, dropping temperatures by 40 degrees or more in some places in just two days.
More snow may be on the way later this week, starting on Thursday night with some mostly sunny days in between.
All Tahoe resorts this ski season are committed to providing space for physical distancing, adhering to safety policies and remaining flexible in the face of the inevitable changes due to the coronavirus throughout the season.
Skiers and riders must educate themselves in advance about COVID-19 policies and follow resort communications as they are updated. Guests should book in advance of their visit and plan to visit midweek for the best possible experience.
Mammoth Mountain opens Friday: Management pushed up its opening by one day after receiving 14 inches of snow. The resort has also been busy with its snowmaking operations.
Mammoth Mountain will be the first California ski resort to open for the 2020-21 season.
Mammoth Mountain will open with chairs 1, 2, 3, 6 and 11. Individual lift tickets for this weekend are sold out, but Ikon passes are still on sale.
Lake Tahoe Snow Report
Sierra-at-Tahoe: 20 inches
Sugar Bowl: 10 inches
Soda Springs: 10 inches
Boreal: 10 inches
Homewood: 9 inches
Diamond Peak: 8 inches
Mt. Rose: 8 inches