Severe blizzard weather conditions shut down virtually every Tahoe ski resort on Tuesday.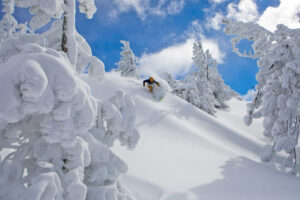 However, there are two exceptions – Heavenly and Diamond Peak. Eleven of the 13 Tahoe ski resorts are closed Tuesday due to the unyielding conditions.
While Diamond Peak opened at its usual time Tuesday (Feb. 28), Heavenly didn't begin running lifts until 11 am. The California lifts that were operating at Heavenly are Powderbowl, Gunbarrel, Patsy's, Groove, and the Tram. On the resort's Nevada side, Stagecoach and Boulder were both transporting skiers and riders up the mountain.
CHECK OUT TAHOE SNOW REPORT BELOW
It was a powder day at Heavenly, which received 16 inches by Tuesday morning and 33 inches over the 48-hour period.
"Thanks to the hard work of the entire Heavenly team, we were able to dig out lifts, conduct necessary lift maintenance/safety work, and conduct snow safety activity across enough terrain to open a limited footprint for our guests today," Heavenly spokesperson Cole Zimmerman said. "We're happy to safely open the terrain we can today – a deep powder day – for some incredible skiing and riding."
Located in Incline Village in a wind-protected area, Diamond Peak will have two lifts operating Tuesday – Lakeview and Lodge Pole, a beginner chair.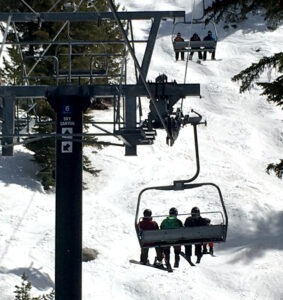 Diamond Peak is a terrific family-friendly, neighborhood-like ski resort with arguably the best views of Lake Tahoe. The resort was reporting 16 inches of new snow Tuesday morning and nearly 4 feet from the recent storms that have hit the Lake Tahoe region.
"Diamond Peak is naturally more wind protected than most due to our lower-elevation location tucked into the Carson Range vs. many other (Tahoe) resorts that are on more exposed ridge tops," said Diamond Peak spokesperson Paul Raymore. "That's especially true of the lower mountain at Diamond Peak, which also has lots of trees to help block some of the worst of the winds. That being said, our upper mountain is closed due to wind hold today."
Diamond Peak is also devoid of any terrain where avalanche danger is a concern, so that makes it much easier to get the mountain open in blizzard conditions like today.
"Even with those factors, it's still an incredible amount of work to get the ski resort ready for the public on a day like today," Raymore explained. "There's snow to be dug out, lifts to be inspected and cleared, trails to be groomed (though that makes little difference on a day like today), signs/ropes to be put in place, etc. So we'd like to thank all of our dedicated employees who made it to the mountain today and got everything open for our die-hard skiers and riders who also made it up."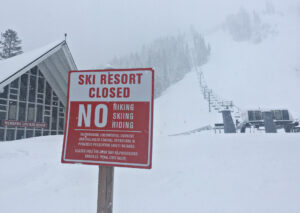 CHECK OUT TAHOE SNOW REPORT BELOW
Due to the severe weather, Sierra-at-Tahoe was closed Monday. Also on Monday, Boreal closed at noon and Northstar shut down its mountain at 2 pm. Tahoe Donner was also closed Monday and announced Tuesday it won't reopen until Thursday (March 2). Many other Tahoe ski resorts had to close multiple lifts Monday due to the high winds and whiteout conditions.
"With a storm of this magnitude, major impacts to travel and roads throughout the region are projected to continue throughout the day, rendering mountain access challenging and operations near impossible," said Sierra-at-Tahoe spokesperson Katie Hunter. "So, we have made the decision to remain closed Tuesday for the safety of our guest and employees."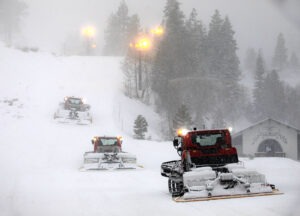 HIGH SNOW TOTALS: In the past 24 hours, Palisades Tahoe received 38 inches of new snow and 16 on Monday, bringing its two-day total to 54 inches, the most among Tahoe ski resorts. The resort has received a staggering 9 feet (108 inches) over the past week, bringing its season snow total to 501, second behind Kirkwood's 502 inches.
"The high avalanche danger and blizzard conditions continuing Tuesday will keep the mountain closed for the day," said Palisades Tahoe spokesperson Patrick Lacey. "The winds are gusting up to 90-plus mph up top from the southwest Tuesday morning with colder temperatures and heavy snow continuing to pile up dry powdery snow on the mountain. The winds are whipping around the snow, causing low visibility and big drifts."
Palisades Tahoe has not announced a definitive closing date, but recently said it would be offering skiing and riding at least through May. Being on the slopes for the Memorial Day weekend will once again be happening at the venerable ski resort.
Homewood was another Tahoe ski resort that is getting hit hard by this series of storms. Over the past two days the resort on Tahoe's west shore has received 4 feet of new snow. Kirkwood wasn't far behind with 43 inches and Northstar California got 40.
While Kirkwood and Palisades Tahoe are the only Tahoe ski resorts with 500-plus inches of snow for the 2022-23 season, many more are closing in on that lofty total. Sugar Bowl has 470 inches, followed by Boreal (454), Northstar (453), Homewood (448), Mt. Rose (433), and Heavenly (426).
Mammoth Mountain, located on California's Eastern Sierra range, has the most snow in North America with 646 inches at its summit.
TRANSPORTATION, WEATHER UPDATE: A blizzard warning in the Truckee-Tahoe region went into effect at 11 a.m. Monday and Interstate 80 was promptly closed from eastbound at Applegate and westbound at the Nevada State line due to "dangerous driving conditions and whiteouts," according to the California Highway Patrol. The closure remains in effect Tuesday with no time given for a reopening.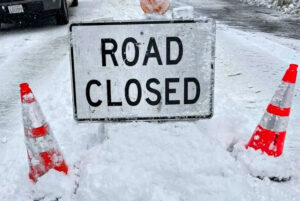 On Highway 50, that leads into South Lake Tahoe, chain-controls has been issued the last two days, starting at Placerville and continuing to Meyers. Caltrans is advising not to travel in and out of South Lake Tahoe unless it's necessary.
Heavy snow is expected to continue throughout Tuesday and could drop another 3 feet of snow at multiple Tahoe ski resorts by Wednesday morning. The snow should start winding down Tuesday night with scattered snow showers possible into Wednesday morning. It remains cold Wednesday with partly sunny skies with highs in the 20s. However, the gusty east winds continue, expected to be 40-50-plus mph at many ski resorts.
Weather services in the region are predicting a break in the active pattern from Thursday into Friday, with mostly sunny skies and highs into the 30s, along with lighter winds. Another cold trough could arrive Saturday and run into next week.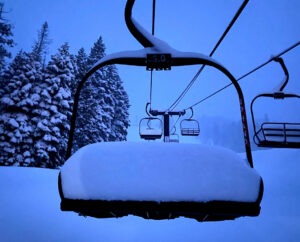 TAHOE SNOW REPORT (Feb. 27-28)
Palisades Tahoe: 16-38 – 54 inches
Homewood: 12-36 – 48 inches
Kirkwood: 13-30 – 43 inches
Northstar: 13-27 – 40 inches
Sierra-at-Tahoe: 11-28 – 39 inches
Tahoe Donner: 13-24 – 37 inches
Sugar Bowl: 13-23 – 36 inches
Heavenly: 14-19 – 33 inches
Mt. Rose: 8-20 – 28 inches
Diamond Peak: 6-16 – 22 inches
Granlibakken: 14-NA
Boreal: NA
Soda Springs: NA