Following a day when there was no skiing available in the Lake Tahoe region, seven Tahoe ski resorts reopened Saturday morning,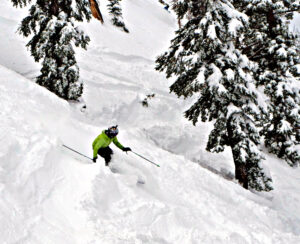 Due to the harsh weather conditions and more mounting snow, most ski resorts were on a delayed opening Saturday (March 11). However, these fivc Tahoe ski resorts remained closed Saturday – Kirkwood, Northstar, Heavenly, Tahoe Donner, Sierra-at-Tahoe.
The following resorts were open Saturday – Diamond Peak, Sugar Bowl, Palisades Tahoe, Mt. Rose, Boreal, Soda Springs and Homewood.
SEE LATEST TAHOE SNOW REPORT BELOW
Sugar Bowl's morning conditions were typical of most Tahoe ski resorts that opened Saturday.
"While we got new snow (14 inches), it was wet, heavy snow, and then it froze over, so there is a substantial ice crust with a thin layer of light snow on top," a Saturday Sugar Bowl blog stated. "If you're coming to play Saturday, we're expecting periods of heavy snowfall and high winds, which causes visibility to be lousy at times, so don't try to be all cool and huck cliffs when you can't see 5 feet in front of you – OK?"
HEAVY SNOW TOTALS AT MT. ROSE: Probably due to its base elevation at 8,260 feet, the highest among Tahoe ski resorts, Mt. Rose easily had the most snow again Saturday.
The Nevada ski resort near Incline Village was reporting 32 inches by Saturday morning after getting 24 inches the day before. The two-day snow total is 56 inches, more than double of any other Tahoe ski resort.
The latest snow dump brings the Mt. Rose snow total for the 2022-23 season to 555 inches. The resort was expecting to run all of its lifts Saturday, but the Chutes expert area will remain closed.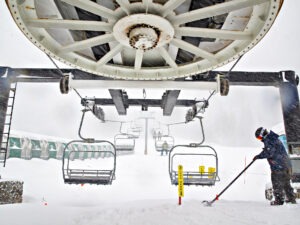 Following an avalanche control closure Friday, the Mt. Rose Highway was open Saturday morning. The ski resort was reporting by mid-morning Saturday that the main lodge parking was at near capacity and Slide parking was still available.
UPPER MOUNTAIN CLOSED AT PALISADES TAHOE: At Palisades Tahoe, the wet conditions were causing chairlifts to ice over and mountain operations people were breaking the ice off by hand before opening in the morning.
By mid-morning, the upper mountain was closed and the resort was operating seven lifts that accessed 20 trails. Among the open lifts were KT-22, Red Dog, Far East and the Resort Chair.
"When heavy/wet snow falls on the light-density, powdery snow, it creates dangerous avalanche conditions," Palisades Tahoe spokesperson Patrick Lacey said Saturday morning. "This morning our patrol was able to do avalanche control work so we could safely open our mountain."
WEATHER FORECAST: According to OpenSnow.com, rain and snow with fluctuating snow levels will continue through Monday. Another wet storm will move in Monday night into Tuesday and could linger into Wednesday morning.
A break in the storms is likely to occur Thursday. Weaker systems are possible from March 17 through March 23 with a possible dry trend the last few days of the month.
TAHOE SNOW REPORT (March 10-11)
Mt. Rose: 32-24 – 56 inches
Kirkwood: 10-17 – 27 inches
Sugar Bowl: 14-12 – 26 inches
Northstar: 7-16 – 23 inches
Sierra-at-Tahoe: 10-10 – 20 inches
Palisades Tahoe: 8-7 – 15 inches
Diamond Peak: 10-4 – 14 inches
Heavenly: 0-10 – 10 inches
Homewood: 0-10 – 10 inches
Tahoe Donner: 4-4 – 8 inches
Boreal: NA
Soda Springs: NA