Smiles have returned to South Lake Tahoe. That's a direct result of jubilant and relieved residents of the iconic resort town being able to return to their homes over the Labor Day weekend.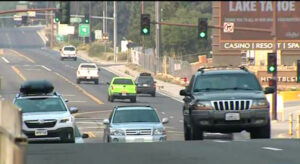 Residents shouted their enormous thanks to firefighters and honked their horns Sunday evening as they drove past a transportation sign illuminated with the words – "WELCOME HOME."
The South Lake Tahoe evacuees had their cars packed as they drove down the newly-open State Route 50 to South Lake Tahoe on Sunday evening (Sept. 5). The procession of cars continued Labor Day Monday as tens of thousands of residents happily headed back home.
Amazingly, no deaths or structural damage has reportedly taken place throughout South Lake Tahoe.
Firefighters made major headway containing the Caldor Fire over the weekend, thanks to changing weather conditions. It led to evacuation orders being downgraded and allowed residents at one of Tahoe's most populated areas to return home.
Cal Fire officials said that 43,195 people were forced to evacuate as a result of the Caldor Fire. Evacuees from South Lake Tahoe made up roughly 22,000. The mandatory evacuation order was issued Aug. 30 as residents spent around a week away from their homes.
Monday morning, the California Department of Forestry and Fire Protection said the Caldor Fire had been 44% contained, nearly double what the agency reported Thursday (Sept 5).
Evacuation orders were lifted for residents from the Nevada state line west along Highway 50 to the Tahoe Airport, and Highway 89 from the northwest to the city's edge at West Way. This also includes the trail from the state line west to Al Tahoe Boulevard.
Mandatory evacuation orders on the Nevada side of the state line were lifted Saturday, although Douglas County authorities urged residents to stay alert, saying the fire still has the potential to threaten homes.
The areas of Fallen Leaf Lake, Christmas Valley, Meyers and North Upper Truckee remain under evacuation orders.
Despite the return home, there remains a risk of another evacuation if fire activity flares up again. The Caldor Fire has burned 216,358 acres.
"Although we did not have any major runs throughout the entire day, there was a slight uptick in fire behavior," Cal Fire operations section chief Tim Ernst said Monday morning.
Ernst said fire crews are looking to control fire areas near cabins in the Echo Lakes area, and added – "We are not out of the woods" near Highway 88 just yet.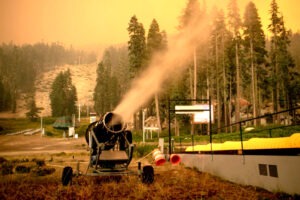 Authorities said lower temperatures, slowing winds and rises in humidity allowed firefighters to take advantage of the slowed pace of the wildfire to focus on mitigation efforts to keep the blaze from spreading further.
SKI RESORTS SAFE: Thanks to the hard work and ingenuity of firefighters, plus the use of snowmaking machines, three prominent Lake Tahoe ski resorts are surviving amidst the Caldor Fire.
Located off Highway 50, Sierra-at-Tahoe was the first Tahoe ski resort to utilize its snowmaking equipment to shoot out water, creating moisture in the air that in the cold winter months condensates and turns into snow.
Heavenly Mountain and Kirkwood Mountain also utilized snow guns to fight off the fire. Both resorts are owned by Vail Resorts.
Snow machines can pump up to 150 gallons of water a minute at pressures up to five times a typical a fire hose. Some were mounted on poles, and others are portable. They draw water from reservoirs and wells on ski areas. Heavenly has two reservoirs, including a hue one that holds 50 million gallons.
"We had them in place preventatively and we had a snow-making system all charged up and ready to go," said Sierra-at-Tahoe General Manager John Rice. "As the fire got to Camp Sacramento and started coming toward us, we turned them on."
Fighting the Caldor Fire has meant close communication with Cal Fire, the United States Forest Service fire team, the local Fire Department, and other local organizations.