One of the few lifts in operation during the 1960 Olympics at Squaw Valley, Red Dog has a long, storied history.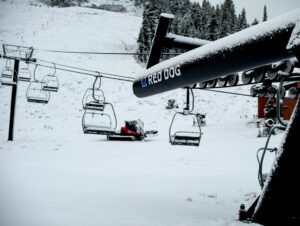 However, change will be coming next ski season in a move all skiers and snowboarders can applaud.
Red Dog will be replaced with a high-speed, detachable six-person lift this summer and is expected to be ready for the 2022-23 season.
SEE TAHOE SKI RESORT CLOSING DATES BELOW
The popular chair at the base of Palisades resort, located near the Funitel, was upgraded to a three-seater in 1989, and now will be upgraded to seat six people when completed.
The Red Dog base terminal will be moved east to a new location that will give skiers and riders direct access to the lift from the parking lot. The lift will pass over the Far East Express and terminate in the same location it does now.
Red Dog's last day this season is expected to be on or close to April 10.
Also, next season, the long-awaited gondola connection between what used to be two different Tahoe ski resorts will be operating next ski season.
Alterra Mountain Co., a Denver ski conglomerate that owns Palisades Tahoe, announced Feb. 28 that the new gondola will connect the Palisades and Alpine Meadows sides of the resort for the 2022-2023 ski season.
RESORT CLOSING DATE: Palisades Tahoe recently announced its closing date for the 2021-22 ski season will be Sunday, May 1.
Spring skiing is a departure from the norm among many Tahoe ski resorts. At Palisades Tahoe, skiing in April means corn snow, slushy bumps, colorful costumes, crazy events, live music, and sun-soaked après.
"Spring is the best time of year to ski and ride Palisades Tahoe. And with lift ticket and lodging deals, it's even easier to hit the slopes," said Palisades spokesperson Hannah Frail Roberts. "So, wax up your skis and boards and come grab some late-season turns."
LIFT CLOSINGS: Sunday (April 3) was the final day of the season for traveling down KT-22.
Headwall, Sherwood and Lakeview also had their last days this past weekend.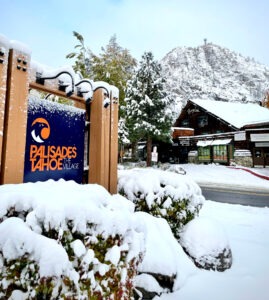 The remaining lower mountain lifts on the Palisades side – Red Dog and Resort Chair –will likely close on or soon after April 10. However, upper mountain lifts will continue to operate.
SPRING EVENTS: After a two-year hiatus, Snow Golf returns to Alpine on Saturday, April 9.
Skiers and snowboarders can team up with friends and play nine holes of golf, starting at the top of Summit chair and making the way down the mountain.
The original pond skim – Cushing Crossing – returns for its 30th annual competition on Saturday, April 16. The bravest skiers and riders on the mountain will attempt to ski across Cushing Pond, while sporting some entertaining costumes.
TAHOE SKI RESORT CLOSING DATES
Tahoe Donner: April 10
Diamond Peak: April 10
Sierra-at-Tahoe: April 10
Homewood: April 10
Boreal: April 17
Soda Springs: April 17
Mt. Rose: April 17
Northstar: April 17
Sugar Bowl: April 17
Granlibakken: April 17
Heavenly: April 24
Kirkwood: May 1
Palisades: May 1
Alpine Meadows: May 1