If the legs are a bit tired and need a break from the slopes, another activity option at Palisades Tahoe is the tubing hill.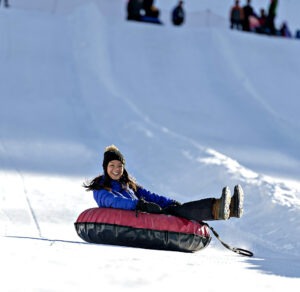 Unlike skiing or snowboarding, where different ability levels are typical, the whole family can have fun together on the tubing hill, cruising down one of the four mostly identical lanes at SnoVentures Activity Zone.
The area is located in the Olympic Valley base area adjacent to the Palisades Tahoe parking lot. The surrounding area is also available for general snow play fun.
There's nothing to bring when tubing at Palisades Tahoe – just a good attitude to the modest hill that is available for adults and kids at least 40-inches tall.
The facility provides individual tubes for both children and adults in motion for a snowy ride. Participants must be able to get in and out of the tube without assistance. Both adult and child-size tubes are available. Winter boots (not ski boots) are recommended.
Unlike some tubing hills, the one at Palisades Tahoe has a convenient conveyor belt (magic carpet) at the bottom of the lanes, making it easy to get back on top of the tubing hill. A carpet is enclosed, so it also serves as a warm place on snowy, cold days.
The tubing area is open daily (weather permitting) from 10 am to 4 pm (last session begins at 3 pm). Parking is free and typically available within close proximity to the tubing area. Personal sleds or tubes are not permitted and ski boots can't be worn while tubing.
TUBING INFO
Tickets available for purchase online and at the SnoVentures Activity Zone
Snowtubing is $42 on weekdays and $54 on weekends and blackout dates
Tickets are non-transferable and non-refundable
Snow tubing sessions are 55 minutes long and begin on the top of the hour
Limited number of tickets per session in order to provide the best experience
Snowtubing hours are weather and conditions permitting
The last daily tubing session is at 3 pm
FREE snowtubing is available every Thursday to Ikon Pass holders. This is available on a first-come, first-served basis.
For more information, call 800 403-0206.