After more than seven months of skiing in Lake Tahoe, only one resort remains open as of Monday (May 15) – Palisades Tahoe.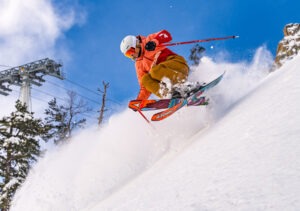 Not only is Palisades Tahoe staying open, the former Squaw Valley ski resort will be running its lifts for nearly another two months. The resort has scheduled its closing date for July 4. Palisades Tahoe has received 723 inches of snowfall this season, the most in resort history.
The ski and ride season will continue seven days a week through May, and then switch to the Alpine side of Palisades Tahoe through Sundays in June, with the last weekend of riding lasting from July 1 to July 4. Palisades Tahoe is the largest ski resort in the Lake Tahoe region, boasting 6,000 skiable acres across
To view the operations schedule for the remainder of the 2022-23 season, click here.
SKI SEASON BEGAN IN NOVEMBER: The Tahoe ski season got started with both Mt. Rose and Boreal Mountain opening Nov. 11. Many other Tahoe ski resorts followed and the only closures other than the end of the season were days where literally it was snowing so hard that resorts had to shut down due to the severe weather.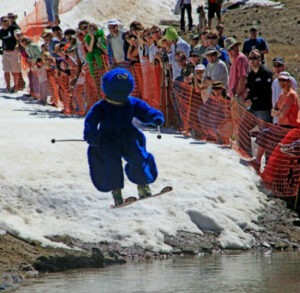 Palisades Tahoe and three other Tahoe ski resorts – Kirkwood, Heavenly, Diamond Peak – were still running lifts into May. Diamond Peak closed May 1, Heavenly stopped running its lifts May 7, and Kirkwood pulled down the curtain on its season Sunday (May 14).
CUSHING CROSSING: The comical Palisades Tahoe pond-skimming contest is widely regarded as the best event of the spring ski season. It is full of laughter and spills as participants attempt to ski or snowboard across a pond of freezing water dressed in some of the zaniest costumes one ever sees at a ski hill.
The 31st annual Cushing Crossing takes place Saturday, May 20 at 1 pm, weather and conditions permitting. Due to the Cushing Pond melting at a slower rate this season, the event had to be pushed back to a later date than normal.
"We're thrilled to bring back the Cushing Crossing event for its 31st year," said Kristen Costa, Events & Sponsorships Senior Manager at Palisades Tahoe. "It's always a highlight of our spring season and a great opportunity for our community to come together and celebrate the end of winter in a fun and unique way."
To register as a Cushing Crossing participant, head to Wildflour at 7 am, the day of the event. The registration fee is $20, cash only. Admission to view the event is free, and everyone is encouraged to dress up in their wackiest costumes.
For more information on the Cushing Crossing, visit the Palisades Tahoe Event's Calendar.
DISCOUNT LIFT TICKETS, LODGING: As the spring season continues for almost two more months, Palisades Tahoe is offering deals on daily lift tickets and lodging. One of the primary lodging locations is the Village at Palisades Tahoe.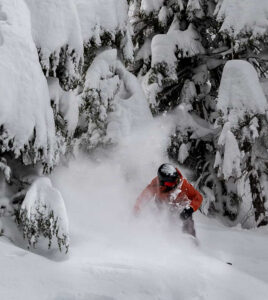 Visit here to view the ticket price discounts.
Click here to see the lodging discounts.
TAHOE SKI RESORT CLOSING DATES