Two Tahoe ski resorts open Friday, signaling the start of the 2020-21 ski season in Lake Tahoe.
The Tahoe ski season officially starts Friday (Nov. 20) when both Heavenly Mountain and Northstar California open for skiing and snowboarding. But four other Tahoe ski resorts are likely to fire up the lifts by late next week,
TAHOE SKI RESORT OPENINGS
Heavenly: November 20
Northstar: November 20
Boreal: November 23
Squaw Valley: November 25
Alpine Meadows: November 25
Sugar Bowl: November 27
Diamond Peak: December 10
Homewood: December 11
Tahoe Donner: December 11
Granlibakken: December 18
Mt. Rose: TBA
Sierra-at-Tahoe: TBA
While the start of Lake Tahoe skiing is terrific news, that's perhaps the latest start to the season in several decades. Traditionally, at least one Tahoe ski resort wanted to gain some notoriety as the first resort to open and many times that came in late October or early November.
For multiple years, Boreal Mountain was typically the first Tahoe ski resort to open, thanks to snowmaking. Not much of the small ski resort off Interstate 80 would be open, but it didn't matter, the kick off to the Tahoe ski season had begun. The earliest opening in Boreal's history was Oct. 9, 2010.
In the past few years, Mt. Rose Ski Tahoe has taken over the honor of first Tahoe resort to open. The resort, located in Nevada off the Mt. Rose Highway near Incline Village, also typically used its snowmaking abilities to get at least one run ready for an early opening.
Mt. Rose has been the first resort to start running its lifts the previous four seasons, including last year's opener Oct. 25. It was the second earliest Mt. Rose has ever opened for skiing and snowboarding. The earliest date was Oct. 19 for the 2018-19 season.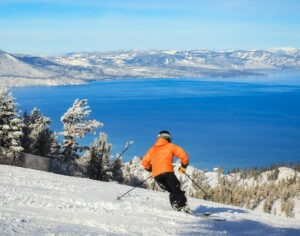 Due to the constraints of the coronavirus, Mt. Rose wasn't able to add to its streak and still has not announced an opening date. It was evident in mid-October this year that an early opening was unlikely. Mt. Rose had yet to begin snowmaking, even though there have been some recent low evening temperatures.
A year ago, Mt. Rose opened the Wizard beginner lift for a somewhat ceremonial opening. Having more than one lift available this year is a necessity due to the pandemic virus.
"Our opening plan is to be skiing from to the top on day one in order to spread crowds out," said Mt. Rose spokesperson Mike Pierce. "This means that we'll need to have several trails open and significantly more coverage than in years past.  The reality is that an October opening day is doubtful with mid-November much more likely.
Besides Heavenly and Northstar, there could be four more Tahoe ski resorts open for Thanksgiving weekend – Sugar Bowl, Boreal Squaw Valley and Alpine Meadows. If weather and conditions remain good, the six resorts will stay open into December. The next Tahoe ski resort to join the party will be Diamond Peak on Dec. 10.
After no snow in October, the snow has finally arrived in the past week and a half. Some Tahoe ski resorts have as much as 30 inches total, bolstered by a couple of snow days this week.
TAHOE SNOW REPORT (Nov. 17-18)
Squaw Valley: 7-16 – 23 inches
Alpine Meadows: 7-16 – 23 inches
Homewood: 11-10 inches – 21 inches
Boreal: 6-15 – 21 inches
Soda Springs: 6-15 – 21 inches
Mt. Rose: 4-16 inches – 20 inches
Diamond Peak: 10-10 – 20 inches
Sierra-at-Tahoe: 9-10 inches – 20 inches
Sugar Bowl: 4-12 inches – 16 inches
Heavenly: NA
Northstar: NA
Kirkwood: NA
Tahoe Donner: NA