Although she's competed all over the world, snowboarder Jamie Anderson's happy place remains the modest ski resort of her youth – Sierra-at-Tahoe.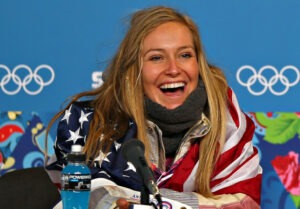 Riding on a hand-me-down snowboard at the South Lake Tahoe ski resort off Highway 50 was the bomb when the 9-year-old Anderson first took up the sport in 2000.
Sierra-at-Tahoe became her home away from home.
"I still think Sierra is my favorite place to snowboard in the whole world. As a kid, we spent every single day there at the mountain," Anderson said.
Those innocent times of snowboarding all day with her older sisters were idyllic for a young girl who embraced the challenging winter sport and kept pushing the envelope during her rapid progression.
More than two decades later, Anderson's name is prominent in any discussion of who is the top all-time female snowboarder. The resume certainly lends credence to her lofty place in history.
GOING FOR ANOTHER GOLD: The 31-year-old Anderson has won three Olympic medals – two of them gold. And her 19 Winter X Games medals are the most of any female and third overall behind Shaun White and Mark McMorris.
In early February 2022, Anderson will be back on the world stage, competing in her third consecutive Winter Olympics in Beijing.
Anderson is currently the top-ranked American woman in slopestyle and No. 5 worldwide, according to the International Ski Federation. She is also the top-ranked American in the Big Air event.
She will be seeking a third gold medal in Women's Slopestyle (Feb. 5-6). Nine days later, the spotlight shines on Anderson again as she attempts to reach the podium in the Big Air competition – she took silver in the 2018 Games.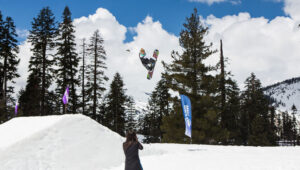 The pressure for an Olympic three-peat will be enormous. Yet one of Anderson's great skills is remaining cool and focused when the stakes are at their highest. And that's no easy task when the 5-foot-3 snowboarder takes flight over 70-foot jumps with the world watching.
"Jamie has a world-class skill of being able to focus clearly no matter what the circumstance," professional snowboarder Leanne Pelosi told Tahoe Quarterly in a recent story on Anderson. "She is one of the greats, up there with Kelly Slater, Steph Gilmore and Shaun White. Her mental fortitude is what sets her apart.
Anderson understands the media scrutiny she will encounter at the Beijing Olympics. But she vows to remain low key prior to her date with destiny.
"I don't want to get too ahead of myself and like freak out," Anderson said. "I want to enjoy the process, enjoy where I am right now. I don't want to waste energy on things that are out of my control."
JANUARY WORLD CUP WIN IN MAMMOTH: The reigning queen of women's slopeside competition – proved it again, at the Grand Prix at Mammoth Mountain in California.
Anderson looked totally under control in landing a switch double cork 1080 at Mammoth on her last hit to capture the slopestyle event.
It was win No. 1 this World Cup season for Anderson, who topped 2021 world champ Zoe Sadowski-Synnott of New Zealand.
On her second run, the American scored an 86.32 to take the gold medal away from Sadowski Synott, who was leading after the first run on 82.50.
Synott settled for silver, beating Japan's Kokomo Murase, who completed the podium in third.
The Mammoth event served as the last domestic U.S. Snowboard and Freeski Olympic Tryout event and provides a pathway toward qualifying for the 2022 U.S. Olympic Snowboard and Freeski Teams.
TAHOE UPBRINGING: Anderson has lived in Whistler, British Columbia, for the past six years with her boyfriend – Canadian snowboarder Tyler Nicholson. Yet, her heart is never far from scenic South Lake Tahoe.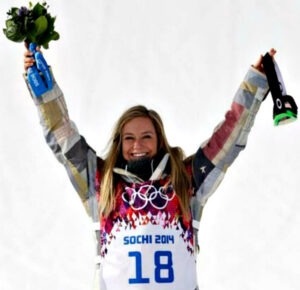 Born and raised in unincorporated Meyers (near South Lake Tahoe), she is the fifth of eight children – six girls and two boys. Her mother home-schooled the children and Anderson's father worked as a local firefighter.
JAMIE ANDERSON FILE
Born: Sept. 13, 1990
Age: 31
Born & Raised: Myers, near South Lake Tahoe
Family: 5 sisters, two brothers
Parents: Joey and Lauren Anderson
Boyfriend: Tyler Nicholson
Height: 5-3
Home Mountain: Sierra-at-Tahoe
Turned professional: 2004
Specialty Events: Slopestyle, Big Air
Olympic Medals: 3
Winter X Games Medals: 19
Although Joey and Lauren Anderson couldn't afford the latest ski gear for their kids, their biggest gift may have been providing them freedom to explore the outdoors. The parents made a pact with the kids – completing homework assignments resulted in a free pass to go play.
In the winter months, that meant the Anderson kids frequently took the roughly 20-minute bus ride to Sierra, which served as both a playground and daycare center.
Jamie emulated her older brothers and sisters on the slopes, almost instantly falling in love with a sport that in four short years after first strapping on a snowboard, would become her profession.
"I grew up watching my sisters and seeing kids at the local mountain hit jumps," she recalls. "After I hit my first jump, I knew this was something I was going to pursue."
It wasn't long before Anderson and her two older sisters (Joanie, Stacie) began establishing a reputation for being standout snowboarders. John Rice, Sierra's general manager, provided some financial assistance that allowed the girls to compete and begin earning recognition.
"We were constantly challenging and pushing each other at home and on the mountain," Joanie said. "I think it's where we all got our competitive drive. Stacie, Jamie and I grew up on the snowboard team together. If one of us learned a new trick, the other two wouldn't be far behind."
CALDER FIRE THREATENS ANDERSON HOME: At its peak, the raging Calder Fire was so impactful that locals feared it might burn down South Lake Tahoe, where residents had to be evacuated in late August 2021.
With his 35-year firefighting background, it's not surprising that Joey Anderson didn't abandon the family home in Myers as the fire pushed its way over the Echo Summit. Most of the family evacuated to Southern California when the smoke enveloped the Tahoe Basin.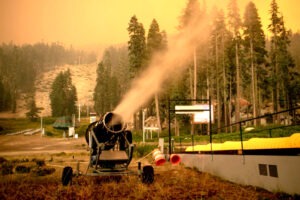 Reportedly, Joey watched firefighters cut a bulldozer line and set a backfire that saved his home. He also put out a small fire that sprung up on the back deck with a garden hose.
"I'm so happy to say that our house is still standing, along with ALL the homes in the Meyers community … a true miracle," Anderson wrote on her Facebook page during a post-fire visit this fall.
But the family's beloved ski resort wasn't so fortunate. The fire destroyed a maintenance shop at Sierra-at-Tahoe, damaged chairlift infrastructure and destroyed countless trees throughout the resort.
As this ski season approached, resort officials said the trails and area accessed by its popular West Bowl Express would be inaccessible this winter. In early January, there was still no word regarding Sierra operating at all this season.
"I'm sad about the fire, and those trees, and all the moss. I'm sad to see the aftermath of the Caldor Fire," Jamie said.
PRO CAREER QUICKLY BLOSSOMS: Anderson was no longer equipped with used gear when she qualified for the 2004 Winter X Games. Although she failed to medal, the experience was invaluable.
One year later, Anderson took home a bronze, becoming the youngest female medalist in the competition at age 15.
In 2007, perhaps the most thrilling moment for the Anderson family occurred when Jamie won her first gold in slopestyle. After offering quick congratulations, the family hustled over to another part of Aspen resort in time to see Joanie Anderson capture gold in boardercross.
The Anderson sisters were the first siblings to win gold at the same X Games.
"I had no idea that Jamie had just gotten gold until my mom jumped the fence and ran over to congratulate me and tell me," Joanie recalls. "It was surreal and such an incredible moment."
While Joanie eventually left the sport in 2011, Jamie continued on. When slopestyle became an Olympic event in 2014, she seized the moment, taking gold in the Sochi Winter Games.
Anderson successfully defended her gold medal in slopestyle at the 2018 Winter Olympics in PyeongChang, South Korea. She also took the silver in the first-ever Olympic Big Air.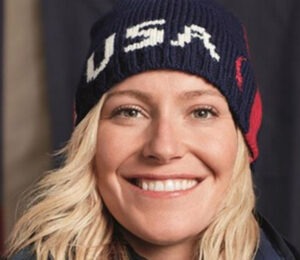 TAKING CALCULATED RISKS: Anderson has always possessed a smooth style and an assortment of tricks.
Like anyone in this dangerous endeavor, she has taken numerous falls in pursuit of new tricks and trying to advance the sport, including a 2009 crash that resulted in a ruptured spleen.
"Thankfully, I've learned from these situations. But it's so hard to know when to push and when to pull back," Anderson said.
Taking a calculated approach, Anderson understands when to push her boundaries in pursuit of victory. It's her uncanny ability to remain calm and focused that has made Anderson a role model for others.
"Jamie has absolutely been an inspiration for female snowboarders all across the globe," said two-time Olympic snowboarder Elena Hight, another South Lake Tahoe product. "She has been able to continue to progress and to push women's snowboarding for decades, and done it in a way that is true to her."
WHAT LIES AHEAD? As the Beijing Olympics approach, Anderson is making no predictions regarding her future. Why? Because she really doesn't know.
"Sometimes I think I want to retire and have kids, then I think maybe women hit their prime in mid-30s, so maybe I could do another Olympics or two if I want," she said.
The free-spirited Anderson has given reality TV a shot, appearing on Dancing With the Stars and the Celebrity Apprentice. But it's unlikely a life in front of the camera figures prominently in her future.
For the short term at least, Anderson will continue being one of the most health-conscious professional snowboarders, far from the stereotype of the hard-partying image that many have for her sport.
Anderson is big into yoga, calling it a huge part of her success. She's also into Ayurvedic medicine, crystals, preserving the planet, meditation, eating well, and maintaining a tremendous love for fresh air and the mountains.
The "what next" question is going unanswered for now.
"I thought the last one might be my last Games, then I got all fired up and here I am," Anderson says. "I think people are just going to have to wait and see. I don't have an answer for that."