Like it or not, the curtain is coming down on Tahoe ski resorts. And judging from the recent warm temperatures, it looks like the appropriate time for the 2020-21 ski season to conclude.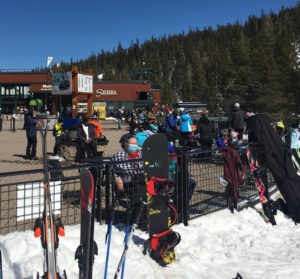 Four Tahoe ski resorts will be closing operations Sunday, April 11. Seven more resorts will run their lifts for an additional week, with tentative closings on Sunday, April 18.
Weather and conditions permitting, Squaw Valley Alpine Meadows will be open approximately seven weeks longer than any other Tahoe ski resort for skiing and snowboarding, establishing a closing date of Memorial Day – Monday, May 31.
SEE BELOW TAHOE SKI RESORT CLOSING DATES
But the end of the season should not include discarding your ski gear with little regard, and quickly moving on toward your warm-weather activities. Proper care of your ski equipment should never be ignored.
As any savvy skier understands, it's important to protect your investment over the summer by keeping it clean and leaving it in good condition for next season.
Here are some things to consider when stowing away your gear when the season has concluded.
SKIES, SNOWBOARD: Give your skis or snowboard a tune up. It's a good idea to have those nicks that invariably happen shaved off. If you don't know how, take them to a reputable ski shop – it's worth the small investment.
Wipe down your skis or board and definitely give them a good, thick coat of wax around the edges and bases. This will help prevent rust and dust.
Make an effort to store your skis or snowboard in a rack that holds them upright from the tails and avoid leaning them up against a wall, which can lead to dull edges and be susceptible to falling equipment.
And store your skis or snowboard in a dry location – a good ski bag works best – away from high temperatures or a location that experiences temperature extremes.
Although some people say it's unnecessary, most experts suggest loosening the ski binding springs with a screwdriver, both the toe and heel piece. This eases the tension and gives the springs a break. However, tape a note on the skis to remind yourself in the fall to reset the bindings to their proper setting.
BOOTS: Because most boot linings have a distinct odor after a long season, it's a good idea to give them a thorough wash in the sink with a gentle detergent. An air freshener like Febreze is a good final touch.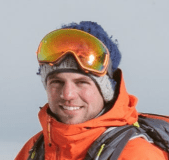 Once it's dry, push the soft lining back into the boot and make sure that the tongue lining doesn't get caught between the lining and the shell.
Clean the outer shell and let it dry. Then buckle the boots and cover them with a plastic bag so no insects or mice (yes mice!) make a home in your boots that you won't notice until the start of next ski season.
CLOTHING: Make sure to wash all your ski clothing – pants, parkas, long underwear, turtlenecks, socks – even if you think it's not necessary.
Salt and dirt can cause both stains and damage the longer it remains on your clothing. Use a detergent that's meant for outdoor gear and this will avoid removing the waterproof coating. Once it's dry, store all clothing in a bag or closet.
A ski jacket can also be cleaned. However, be careful and make sure to read the labels before doing anything. Unzip all zippers and remove everything from the pockets. Place the ski jacket into the washing machine and wash by itself in a gentle cycle with cold water. Hang jacket to dry or use the dryer's lowest cycle.
You can also clean gloves (except leather ones) in a washing machine. Again, make sure to read the directions before cleaning. Use cold water and the gentle wash cycle. For leather gloves, purchase a leather cleaner.
ACCESORIES: It's best to store goggles back in the box they arrived in, but a hard plastic or metal case will be fine. Wipe down with a soft eye glass cloth for best results.
After wiping down a helmet thoroughly, store it in a location that isn't humid. Ski poles need a good wiping as well. And for best results, store the poles in your ski equipment bag.
TAHOE SKI RESORT CLOSING DATES
Tahoe Donner: April 11
Sierra-at-Tahoe: April 11
Kirkwood: April 11
Homewood: April 11
Sugar Bowl: April 18
Diamond Peak: April 18
Soda Springs: April 18
Northstar: April 18
Heavenly: April 18
Boreal: April 18
Mt. Rose: April 18
Granlibakken: TBA
Squaw Valley Alpine Meadows: May 31