She was born in San Francisco, trained at Northstar ski resort in Lake Tahoe, so why isn't American freestyle skier Eileen Gu competing for the United States?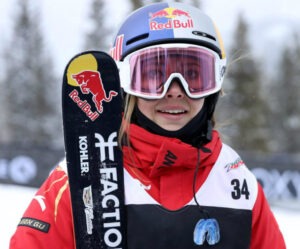 That was a good question to ponder Monday night in Beijing when the American teenager captured the gold medal for China in freestyle Big Air.
The freestyle skiing sensation said she's competing for China's flag at the 2022 Winter Olympics because she "wanted to encourage Chinese skiers the same way my American role models inspired me."
Gu went to Beijing with the goal of three Olympic medals (Big Air, Slopestyle, Halfpipe), a notion that demonstrates her complete confidence in her abilities.
"I am proud of my heritage, and equally proud of my American upbringings," Gu wrote on Instagram. "The opportunity to help inspire millions of young people where my mom was born, during the 2022 Beijing Olympic Winter Games, is a once-in-a-lifetime opportunity to help to promote the sport I love."
Eileen Gu File
Sport: Freestyle skiing
Event: Big Air, Slopestyle, Halfpipe
Born: Sept. 3, 2003
Birthplace: San Francisco, Calif.
Team/Club: Northstar California
Gu has plans on attend Stanford University next fall. A former model, she explained her dual identity while speaking to the Olympic Channel at the Lausanne 2020 Youth Winter Olympics.
She has a Chinese mother and American father.
"When I'm in China, I'm Chinese. When I'm in the U.S., I'm American," Gu said.
Gu is arguably the most fascinating athlete at the Beijing Games. She became the youngest freestyle skiing gold medalist in Olympics history with an incredible jump in her third and final try that vaulted her from third to first.
She cranked out the first 1620 of her career on her final jump to shock France's Tess Ledeux, who was promptly bumped from what looked like a sure gold to silver.
The 18-year-old Gu landed the miraculous jump, then dropped to her knees when her score of 94.50 was announced. Showing her sense of the moment, she coasted into her stop, skiing backwards and holding her hands on top of her helmet in disbelief.
Ledeux had been the only female skier to ever land a 1620 – which requires 4½ spins – in competition. She executed a 1620 with a slight wobble on the landing in Round 1 to assume the lead in the competition.
Gu has victories over the past year in all three Olympic freeski events and it's highly possible she could be the first athlete to win gold in three Winter Games events.