Skiers and snowboarders who frequent Northstar California will be happy to see the new high-speed 6-person chairlift that the resort staged a ribbon-cutting grand opening for on Friday.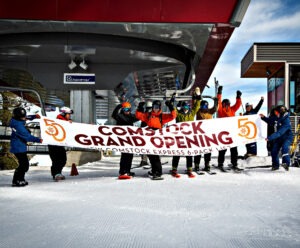 Located in Truckee on Lake Tahoe's north shore, Northstar adds the upgraded Comstock Express lift as it enters its 50th anniversary season.
Thanks to a sizable storm earlier this month, Northstar opened Nov. 12, roughly a week before its scheduled opening.
Northstar was one of six Tahoe ski resorts open for Thanksgiving Day skiing and riding. One day later, both Sugar Bowl and Soda Springs opened for the season. See TAHOE SKI RESORT OPENING DATES below.
This summer, Northstar replaced its 33-year-old workhorse that's located at mid-mountain. The new Comstock lift will increase the flow of skiers and riders through the hub of the mountain and up to the summit, where they can access all the zones on the mountain.
The lift was upgraded from a 4-person chair and is designed to reduce wait times at one of the mountain's most popular lifts. This upgrade will increase uphill capacity by nearly 50 percent. The new Comstock lift will be the third lift to have this alignment at Northstar.
The first chairlift of this alignment was named the "C – Lift," a Riblet double chair installed in 1972. It was replaced 17 years later in 1989 by a Doppelmayr high-speed detachable quad, widely known by guests as Comstock Express.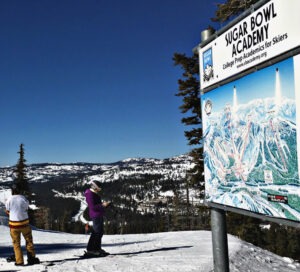 With the remaining 80 original chairs, Northstar had a public auction this summer that raised more than $23,000 for the EpicPromise Foundation, a nonprofit organization that provides grants for unplanned emergencies and educational scholarships to Vail Resorts employees, their families and their communities.
TAHOE SKI RESORT OPENING DATES
Mt. Rose: Open Nov. 11
Boreal: Open Nov. 11
Northstar: Open Nov. 12
Heavenly: Open Nov. 12
Kirkwood: Open Nov. 12
Palisades: Open Nov. 18
Sugar Bowl: Open Nov. 25
Soda Springs: Open Nov. 25
Sierra-at-Tahoe: Dec. 3
Diamond Peak: Dec. 8
Tahoe Donner: Dec. 9
Homewood: Dec. 16
Granlibakken: Dec. 18