A chance at purchasing a part of Northstar California ski resort history will be available next week.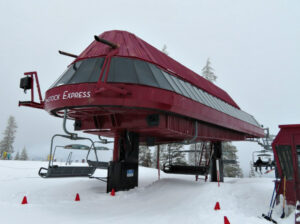 Northstar California ski resort in Lake Tahoe will be holding a Comstock Chair Auction, scheduled to take place Monday, June 20 and running from 12 pm (PST) through June 21 at 12 pm.
The 80 quad chairs from the Northstar lift weigh approximately 350 pounds and measure about 91 inches wide and 123 inches tall.
The Comstock chair is currently being upgraded this summer to a high-speed, 6-person lift for the 2022-23 season. The new Comstock lift will be the third lift to have this alignment at Northstar.
The first chairlift of this alignment was named the "C – Lift," a Riblet double chair installed in 1972. It was replaced 17 years later in 1989 by a Doppelmayr high-speed detachable quad, now widely known by guests as Comstock Express.
This summer, Northstar will be replacing its 33-year-old workhorse with a new Doppelmayr high-speed six-pack chair. It will be welcome news for skiers and snowboarders. The new lift will increase the flow of guests through the hub of the mountain and up to the summit, where skiers and riders can access all the zones on the mountain.
"We are excited to announce the public charity auction of the Northstar Comstock Express chairlift," Northstar spokesperson Ashlee Lambert said. "We encourage all hopeful bidders to pre-register at this link, so our community can have the chance to own a piece of Northstar history."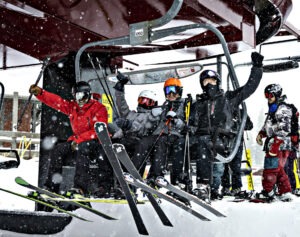 The Comstock auction will benefit the EpicPromise Foundation, a nonprofit organization that provides grants for unplanned emergencies and educational scholarships to Vail Resorts employees, their families, and their communities. More information is available on the auction website.
Northstar says that "please note in order to organize 80 chairs on this site, each chair will have a lot number designated to it. These numbers don't represent the actual chair number itself; they are only representing chair inventory.
For example, if someone bids on "Comstock Chair #7" this means they are bidding on a random ski chair that has been assigned as the 7th auction item and not the actual ski chair #7 from the Comstock lift. No specific chair number can be requested. All the chairs will be distributed on a first-come, first-served basis to the highest bidders at pick-up.
Northstar recommends pre-registering prior to the beginning of the auction by navigating to the left menu and clicking "Register." This way, individuals will be ready to bid once the auction opens.
PICKUP DATES: The winning bidders are responsible for their pickup at Northstar California resort. Northstar will not ship or hold equipment.
The resort advises purchasers to bring a family member or friend to pick up the chair at either date below during the pickup window times.
Friday, June 24, 2 to 5 pm
Saturday, June 25, 9 am to noon.