There is little chance of snow forecast for Tahoe ski resorts on President's Day weekend.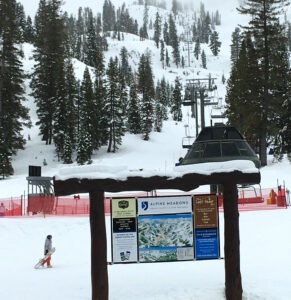 The Weather Channel has forecasted a 10-percent chance of snow dropping Sunday (Feb. 16) and Monday at Tahoe ski resorts, which haven't received any snow this month and virtually none since mid-January.
Bryan Allegretto, Lake Tahoe weather forecaster for OpenSnow.com, is also predicting little chance of snow for the holiday weekend.
"Not a lot of changes in the week as we are expecting mostly dry weather through Friday (Feb. 20) and possibly through next Saturday. Next week could be slightly more active, but no confidence in any storms of significance yet," Allegretto wrote.
Despite the lack of recent snow, most Tahoe ski resorts still have enough snow to satisfy President's Day Weekend skiers and snowboarders who enjoy nice groomed runs.
2019 Februburied lookback: One year ago, the forecasts were quite different – remember "Februburied?"
In mid-February 2019, there were still 13 days left in the month and Squaw Valley had already established a new record for snowfall in February. Squaw Valley picked up another 30 inches of snow Feb. 15 in a 24-hour period and already had 205 inches for the month, breaking the old mark of 196 inches in February 2017.
This time last year, Squaw had 462 inches (39 feet) of snow for the 2018-19 season, exceeding its total annual average snowfall of 450 inches just halfway through the season! That was most snow of any Tahoe ski resort. For the 2019-20 season, Squaw Valley currently has 198 inches.
Joining Squaw Valley in the 400-inch club at this time last year were Sugar Bowl and Homewood Mountain. Sugar Bowl had received 180 inches of snow in February, including 51 in a two-day period, putting its season total at 415 inches. Homewood has a season total of 428 inches that included 75 inches over four days.
Extended Forecast: The dry pattern starts to change slightly next weekend into the week of Feb. 24. The GFS model is back to showing an area of low pressure off the California coast Friday that meanders into SoCal next Saturday. And it's not looking like a "Miracle March" will come to rescue the Tahoe ski resorts.
Allegretto says he is still watching the pattern going into March to see if there could be a wetter pattern compared to February. The long-range models continue to suggest the ridge shifting farther in the northeast Pacific. Maybe some of these systems could tap more moisture and send it into California?
The updated forecast for the last two weeks in March shows average to above-average precipitation for most of California.