Take a mere 280 steps from the Madden chairlift at the base of Homewood Mountain Resort and one can dip their toe into the chilly waters of Lake Tahoe.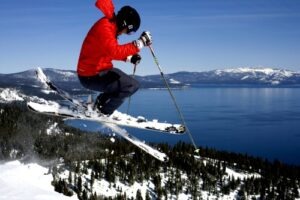 Tucked away on the woody west shore of Lake Tahoe along scenic Highway 89, Homewood is typically not the first ski resort choice among visitors to the famed Lake Tahoe region. But it might be among the most beloved.
"Man, I love this place. A hidden gem in the world of Tahoe ski resorts. The place has an old ski resort feel about it. Great place," noted Ryan von Steinen, several years ago on a Google 5 Star Review.
Thanks to its location near the Nevada casinos, internationally known Heavenly Mountain gets an abundance of skiers and riders each season. And if visitors don't crave the lively nighttime south shore action, Tahoe's north shore is another terrific destination, featuring big-time resorts like Squaw Valley, the 1960 Winter Olympic host, and upscale, family-friendly Northstar California.
But if big isn't one's idea of better, perhaps Homewood ski resort is more your style. There's no ski village ambiance, no trendy restaurants on its premises, and forget about visiting a Starbucks for some early-morning caffeine fueling. Homewood is a no-frills ski resort. It's a favorite of the Tahoe locals partly for a reason – it's anonymity.
On the drive to Homewood, if one takes a quick glance at Lake Tahoe, the aging ski resort can easily go unnoticed. It looks like a small beginner hill and the parking lot is relatively tiny. The good news is finding a parking spot is rarely an issue and the walk to the closest lift is a short one.
COZY CONFINES: Visit Homewood on a typical weekday and don't worry about long lift lines – there are none. That's especially true this season when COVID-19 has meant less skiers and snowboarders visiting their favorite ski resort.
"Something we have always been known for is fewer crowds, and that is something we are really embracing this season, or how we are saying – 'fewer skiers per acre,"' said Lisa Nigon, the Homewood marketing director. "In addition, you cannot beat our view. We are the closest resort to Lake Tahoe and it's something that can really be experienced by skiing/riding with us."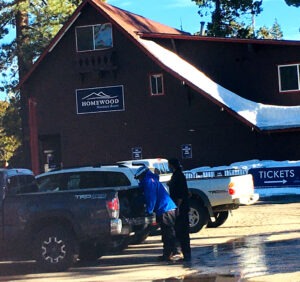 The skiing and snowboarding are accommodating for all levels. Beginners can enjoy a cruise down Homewood's two-mile signature beginner run – Rainbow Ridge. Along the way they will experience panoramic views of both North and South Lake Tahoe while meandering down to lake level.
Views across the lake are unsurpassed, and that's saying something, since many Tahoe ski resorts provide a terrific vantage point to take in the renowned lake. Skiers and riders almost always say the same thing about Homewood. On many of the runs one feels like they are skiing right into the water that inhabits the largest alpine lake (shoreline circumference is 72 miles) in North America and the deepest in the U.S.
PRICE IS RIGHT: Another reason to like Homewood Mountain – affordability. Adult lift tickets range from $91 to $110 for the rest of the 2020-21 season, which is a pretty fair bargain when compared to other Tahoe resorts. The "locals" include Homewood families that have owned the same house for four or five generations.
Homewood is currently selling 2021-22 season passes for $499 to Tahoe residents and $699 for unlimited skiing for nonresidents. That includes skiing free for the remainder of this season when the closing date is expected to be April 11, weather and conditions permitting. A family plan for two adults and two children can be purchased for $1,299.
While Homewood is known for its small crowds – even on many weekends – the downside is patience is required. The resort has only one high-speed chairlift, aptly named Homewood Express.
Employees jokingly called the lift "bout time" when it was installed in 2007. It takes passengers from a mid-mountain to the top of Homewood in five minutes, replacing the 35-year-old relic that required 20 minutes from start to finish.
However, the other seven lifts meander up the slopes, allowing for plenty of time to take in the beautiful scenery and carry on a lengthy conversation. Yet, it's a long ride for someone who is anxious for the next run.
EXPANSION PLANS: The lift system is slow and so is Homewood's expansion plans. Initiated one year after JMA Ventures purchased Homewood in 2006, the master plan was eventually approved in 2011 by the Placer County Board of Supervisors and Tahoe Regional Planning Agency.
Slowed by litigation from opponents, no significant progress has been made and the pandemic has slowed down the process even more.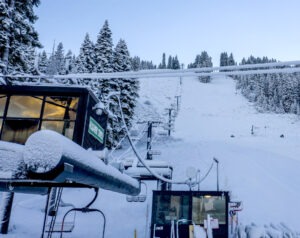 "We are hopeful to be able to share some updates regarding the Homewood Master Plan in the relative near future, so please stay tuned," Nigon said.
The North Base area will be transformed to include a base hotel lodge as well as a small neighborhood village to be used by Homewood and West Shore residents and visitors. Additionally, underground parking will be built for use by overnight resort visitors.
EXPANSION AT A GLANCE
Five-star boutique hotel with approximately 75 rooms
Up to 35 hotel residences in upper floors of hotel structure
Hotel services and amenities include full-service restaurant, spa, fitness facility, meeting space
Food and beverage services
Approximately 13 on-site workforce housing apartments for full-time employees
Up to 84 additional residential condominiums spread among four lodge buildings, all with easy access to slopes
Up to 15,000 square feet retail space
Ice skating pond
Underground parking for lodging guests
Three-level day skier parking structure surrounded by shop space and employee housing
Limited surface parking (for retail/guest drop-off)
In addition, the South Base area will likely include up to 37 multi-family condominiums located in a centralized three-story lodge structure and 52 ski-in/ski-out chalets. There should also be relocation of all day skier access and parking to the North Base
"I have listened to a number of arguments against the Homewood project and have not found anything substantive from what are essentially individuals trying to stop anything from changing," said Ron Parson, whose family owns historic Granlibakken, another Tahoe west short treasure.  "The Tahoe Basin desperately needs investment and redevelopment to help sustain and achieve both the environmental improvements and to remain economically viable. Without these improvements, there will be change – atrophy and closure of businesses like Homewood Mountain Resort."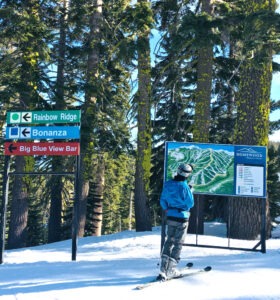 HOMEWOOD HISTORY: Shortly after Squaw Valley put itself on the map worldwide by hosting the 1960 Winter Games, youthful Ron Rupp was hauling up some of his buddies on a rope tow he devised in 1961, which is credited as Homewood's modest beginning. Reportedly, the rope tow was stolen and moved a little south to what became known as Tahoe Ski Bowl.
A year later, entrepreneurial Helen Aldrich bought the Homewood Hotel and ski hill. Homewood and Tahoe Ski Bowl, both small-time ski resorts, became bitter rivals for more than a decade.
"Tahoe Ski Bowl and Homewood shared Rainbow Ridge and if a skier accidentally skied down the wrong side with a different (lift) ticket, they couldn't go back up," said Collier Cook, a former Homewood marketing director.
In 1987, Aldrich bought out Tahoe Ski Bowl, and began operating the area as Homewood Ski Area for three years before selling the property.
ELLIS CHAIR: The chairlift is the most accommodating one for accessing all sorts of varying terrain, including some awesome tree skiing on steep pitches.
Homewood made improvements to the Ellis lift for this season. A refurbishment process began in summer 2020 with new tower equipment and other mechanical components. To align with Homewood's environmental stewardship efforts, lift tower footings and components were repurposed.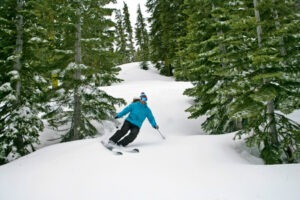 The Ellis chair still moves slowly up a sizable portion of the mountain, but the improvements reduced ride time by nearly four minutes, providing quicker access to popular intermediate and advanced terrain.
The Ellis improvements were minor compared to dealing with the safety practices needed to get through a season with all the COVID-19 implications. But as Homewood nears the finish line to this season, the neighborhood ski resort can feel proud that it was up to the task.
"Considering the policy and procedural changes we have implemented this season, our guests have been very accepting, understanding and compliant," Nigon said. "New health and safety protocols also provided us with an opportunity to implement new systems, including an RFID ticketing system and app-based food and beverage ordering – both of which have enhanced the guest experience."
For a variety of reasons, Homewood Mountain still feels like home to its loyal locals.