Want to be part of history? Then consider celebrating New Year's Eve at Squaw Valley.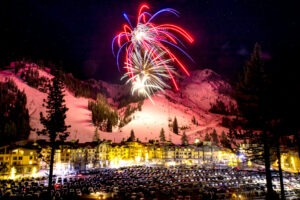 Squaw Valley will once again be attempting to create the World's Largest LED Torchlight Parade. A year ago, nearly 3,000 people participated in the event, skiing down the Exhibition run and lighting up the night sky with blue LED lights.
CHECK OUT SEASON SNOW TOTALS (below) FOR ALL 14 TAHOE SKI RESORTS
Last year, Squaw had a record-number of 2,913 skiers and riders participate in the Torchlight Parade down Exhibition, so it was an "unofficial" world record.
But since there was no Guinness representative on-site, and the torchlight parade was logistically a little different than a traditional flare run, Squaw officials say they can't claim an official world record.
According to Guinness World Records, the largest flare run ever consisted of 2,854 skiers and snowboarders that were carrying flares, following a course between Riggisalp and Schwarzsee in Switzerland.
Squaw Valley has scheduled another Torchlight Parade this year, hoping for a record turnout again. The event kicks off at 5 p.m., and when all of the skiers finish their lap on Exhibition, Squaw Valley will cap off New Year's Eve with fireworks on the KT Deck at 7 p.m.
Following the fireworks is a family-friendly New York New Year's Eve party in the Olympic House. There will be a live DJ and the festivities wrap up with the East Coast ball drop at 9 p.m. (instead of midnight, West Coast time).
However, people looking to keep the party going can check out the Rock-N-OVL concert. Local band – The Nomads (featuring Barry Thys) – will perform in the Olympic Village Lodge, entertaining people just like they did 20 years ago when the band put on a legendary performance for Squaw's New Year's Eve party that brought in the year 2000.
TORCHLIGHT PARADE DETAILS: To participate in the free event, all skiers and riders must be 5-older and sign up for a time slot in advance to participate in the Parade. Time slots are in 15-minute intervals, starting at 5 p.m. and lasting through 6 p.m. Participants will only be allowed to ride the Exhibition chairlift during their time slot. Skiers and riders must show their wristband to ride the Exhibition lift.
HOLIDAY ACTIVITIES: On Jan. 2 (Thursday), Squaw Valley will present two of its favorite après activities: Sunset Happy Hour and Disco Tubing
During Sunset Happy Hour, guests can board the Aerial Tram and head up to the Terrace Bar & Restaurant and enjoy the beautiful scenery of snow-capped mountains, lake views and colorful alpenglow, and enjoy cocktails and snacks. The $21 ticket provides Tram access and one free drink. The event takes place from 3:30-5:30 p.m.
Disco Tubing was one of Squaw's most popular activities last season, putting a fun, new twist on snow tubing. From 5-8 p.m., guests can experience sliding down the snow tubing track while laser lights flash and a live DJ plays retro music. It's a unique way to experience the mountain at night.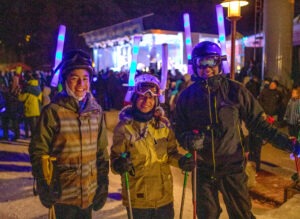 TERRAIN UPDATE: The only terrain that hasn't opened yet at Squaw Valley Alpine Meadows is Silverado and the Palisades, which do not yet have enough natural snow to open. There are also a few hike-to terrain zones that are evaluated on a daily basis. Otherwise. everything on both mountains is open.
Squaw Valley has 151 inches for the 2019-20 season, tied with Mt. Rose for the third most snow among Tahoe ski resorts. Neighboring Alpine Meadows is not far behind with 145 inches.
"The holiday period is traditionally our busiest time of the year, and this season has been no different," said Squaw Valley spokesperson Alex Spychalsky. "We have the ability to open practically every lift at both mountains, so overcrowding and lift lines haven't been an issue."
SEASON SNOW TOTALS (Dec. 30)
Sierra-at-Tahoe: 160 inches
Kirkwood Mountain: 158 inches
Squaw Valley: 151 inches
Mt. Rose: 151 inches
Northstar California: 150 inches
Alpine Meadows: 145 inches
Heavenly Mountain: 142 inches
Sugar Bowl: 142 inches
Soda Springs: 138 inches
Boreal Mountain: 138 inches
Homewood Mountain: 116 inches
Diamond Peak: 85 inches
Tahoe Donner: NA
Granlibakken: NA