In anticipation of the upcoming 2019-20 ski season, Mt. Rose Ski Tahoe will host the premiere of Winterland, the new feature-length ski and snowboard film from Teton Gravity Research.
Mt. Rose will air Winterland on Thursday, Oct. 10 at Upstairs at Greater Nevada Field in Reno. A celebration of ski and snowboard culture, Winterland highlights the adventures of the new crop of modern-day pioneers eager to etch their names in the annals of history. The film follows these individuals as they leave their own mark in the action sports industry.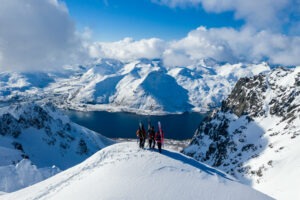 Athletes featured in Winterland include: Angel Collinson, Cam Riley, Christina Lustenberger, Clayton Vila, Cody Townsend, Colter Hinchliffe, Elyse Saugstad, Fabian Lentsch, Griffin Post, Hadley Hammer, Ian McIntosh, Jeremy Jones, Johnny Collinson, Kai Jones, Mark Carter, Nick McNutt, Nicky Keefer, Robin Van Gyn, Sage Cattabriga-Alosa, Sam Smoothy, Sean Jordan, Tim Durtschi and Todd Ligare.
Doors open at 6 p.m., with the show scheduled to begin at 7:30 p.m. Tickets are $10 when purchased online in advance, $13 at the door. The show is open to all ages.
There will be prizes from TGR partners at Atomic, Volkl, The North Face and more. Everyone in attendance will have a chance to win the tour grand prizes that includes trips to Sierra Nevada's beer camp in California, TGR's hometown Jackson Hole Mountain Resort and more.
"We're stoked to support the premiere of TGR's newest ski and snowboard film and help get our community fired up for the upcoming winter
season," said Mike Pierce, director of marketing at Mt. Rose Ski Tahoe. "At 8,260 feet, Mt. Rose is where the snow is, and we've already seen the first hints of winter over the past few weeks. As temperatures permit, we'll continue our snowmaking efforts so we can get this season underway."
OPENING DAY, OCT. 25: With the goal to be the first resort open in Lake Tahoe, Mt. Rose has already started snowmaking and will continue its efforts as weather and conditions permit. The resort is scheduled to begin operations for the season on Oct. 25.
Located 25 minutes from Reno, Mt. Rose is known as a locals' ski resort that has Lake Tahoe's highest base elevation at 8,260 feet. The resort's 1,200 acres feature an ample variety of runs ideal for every level of skier and snowboarder.
Learn more about Mt. Rose or purchase a 2019-20 winter season pass at www.skirose.com.