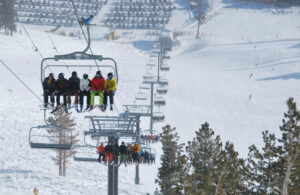 Mt. Rose ski resort announced plans for expansion that will add 11 new ski trails.
Mt. Rose Ski Tahoe will be expanding the Atoma area on the north side of Mount Rose Highway (Nevada State Route 431), where it will build a two-stage chairlift, add 11 new ski trails, plus a skier bridge across the highway that connects the main ski area to the new terrain.
The announcement came after the Humboldt-Toiyabe National Forest issued the Mt. Rose Ski Tahoe Atoma Area Expansion Record of Decision and Environmental Impact Statement on April 13. The expansion is approximately 112 acres of U.S. Forest Service land.
The Alternative 3 plan was selected by Forest Supervisor Bill Dunkelberger because it had a two-stage chair lift system and the skier bridge reduces potential safety risks to both motorists, skiers and riders. The selected alternative amends Mt. Rose's existing special use permit by approximately 112 acres.
"It improves the quality of the ski area's winter sports offerings on National Forest System lands, while minimizing environmental and human impacts," Dunkelberger said in a press release.
The approved project has additional implications. It will also include a water pipeline to provide new snowmaking coverage from a 5-million gallon water tank.
Mt. Rose officials say the changes could begin as early as next summer. The new terrain will be accessed by an angled high-speed chair and will reportedly act as a more intermediate-level area.
"We are excited to be able to start moving forward on the Mt. Rose Ski Tahoe's Atoma Area Expansion Project," said Mt. Rose Marketing Director Mike Pierce. "This project will provide locals an enhanced winter recreation opportunity, as well as transform Mt. Rose into a key destination attraction."
Mt Rose is located in Nevada, approximately 30 miles south of Reno, and also resides close to Incline Village in North Lake Tahoe. The ski resort has a base elevation of 8,260 feet, the highest among Tahoe-area ski resorts. The summit is 9,700 feet. Mt. Rose currently has 1,200 acres of skiable terrain.
Like all Tahoe ski resorts, Mt. Rose was impacted by the coronavirus and stopped running its lifts in mid-March. The resort is closed for the 2019-20 season.