Thanks to its snowmaking and snowfall that began Wednesday evening, Mt. Rose ski resort will be running its lifts for the first time Friday (Dec. 10).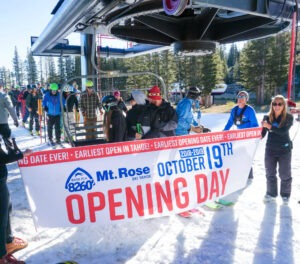 On its website Thursday morning, Mt. Rose was reporting 4 inches of overnight snow at its base and 6 inches at the summit. The snow was continuing Thursday morning and could last into early afternoon.
Located 25 minutes from Reno and also close to Incline Village in North Lake Tahoe, Mt. Rose has the highest base area elevation (8,260 feet) in the region. That gives the resort a better opportunity to make snow than the Tahoe ski resorts in California.
"Early season operations and a strong commitment to offering superior quality snow surfaces all season long continue to be among our top priorities," Mt. Rose spokesperson Mike Pierce said.
Although no other Tahoe ski resort is committed yet to an opening, it would not be surprising to see multiple Tahoe ski resorts running their lifts by the weekend.
"We are going to wait to see the snow on the ground before making any final decisions," said Sugar Bowl spokesperson Jon Slaughter. "We want to open as early as possible, but also need to be realistic about what it will take to go from no snow, to feet of snow instantly."
Sugar Bowl received 5 inches of snow as of Thursday morning.
Top-to-bottom skiing and snowboarding will be available at Mt. Rose, starting at 9 a.m. Friday from the Main Lodge. The Northwest Express lift is scheduled to operate, serving intermediate and advanced terrain only.
Open trails will include Upper Northwest Passage down through the Kit Carson Bowl. Note that beginner terrain is not currently available.
For more information about Mt. Rose services, conditions, or to purchase a lift ticket or season pass, visit www.skirose.com.
MUCH-NEEDED WEATHER SHIFT: Heading into this week, the Tahoe region's 14 ski resorts had a combined one legitimate lift open.Despite running the lone Castle Peak lift that can accommodate all levels of skiers and riders, Boreal Mountain has been drawing pretty decent crowds since opening for the season one day after Thanksgiving.
Both Palisades Tahoe and Soda Springs were also recently open, but lacked sufficient terrain. Palisades had one surface lift that essentially served only beginning skiers and riders, while Soda Springs has been open weekends with only access to some children's snowplay activities.
WEATHER UPDATE: The snow throughout the Tahoe region continued Thursday morning and was expected to stop during the afternoon.
But the bigger news is that much of Northern California and the Tahoe region should get walloped by a much larger storm that is expected to move in Sunday (Dec. 12) and last through Tuesday. There's also a chance of snow Wednesday and Thursday.
According to OpenSnow Forecaster Bryan Allegretto, the second storm will have low pressure and slowly move south down the coast Sunday through Tuesday. Ridgetop wind gusts could increase to 100 mph.
"A deep trough is going to dig south along the West Coast Sunday into Monday," Allegretto said. "The trough will be bringing down more cold air, which is going to help keep snow levels low with this storm."