Mt. Rose ski resort will begin offering weekend skiing, starting Friday, Nov. 2.
The Nevada-based ski resort was the first Lake Tahoe ski resort to open for the season. It had previously opened briefly Oct. 19-20 for skiing and snowboarding, exclusively for season passholders.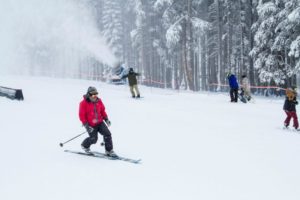 Mt. Rose announced earlier this week its plans to offer early-season weekend skiing and riding to the general public. The resort will be open Nov. 3-5, from 9 a.m. to 3 p.m. Lift tickets will be available for purchase for $20 (all ages).
Mt. Rose won't begin daily operations until more terrain can be opened as weather and conditions permit.
Consistently cold overnight temperatures have allowed Mt. Rose to leverage its snowmaking system and make snow all around the mountain as well as on a concentration of three beginner ski trails in the Enchanted Forest area that connect to offer one way down the mountain. Snow depths are 8-12 inches on open trails.
"Because we have the highest base area elevation in Tahoe at 8,260 feet, we've been able to make the most of cold overnight temperatures and put our snowmaking system to work," said Mike Pierce, director of marketing at Mt. Rose Ski Tahoe. "We're thrilled to be opening to the general public (today) to really get the season underway. As weather and conditions permit, our intention is to maintain Friday through Sunday operations until we can get more terrain open and begin daily operations for the season."
This weekend, the resort's Lodgepole Café will be open from 8 a.m. to 3 p.m., and the Timbers Bar from 10 a.m. to 3:30 p.m. Equipment rentals, repair and ski lessons will not be available. However, skiers and riders can pick up season lease equipment and purchase season passes.
Mt. Rose is located a mere 25 minutes from Reno and is also very close to North Lake Tahoe. Season pass options range from $199 to $599. Skiers and riders will have access to preseason sale rates through Sunday afternoon online at www.skirose.com.
It's always interesting to see who will be the first ski resort to open in the Lake Tahoe region. For the fourth year in a row, that honor belonged to Mt. Rose. The Oct. 19 date marked the earliest opening in Mt. Rose's history. The prior earliest date was Oct. 26, 2017.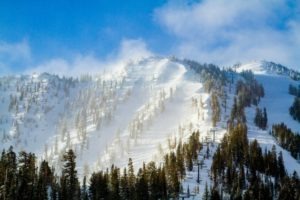 Boreal Mountain used to traditionally be the first Tahoe resort to open. While Mt. Rose has assumed that role, Boreal is still annually one of the first ski resorts to open in the region. The targeted opening date this season for Boreal is Nov. 9. But if conditions cooperate, Boreal will be prepared to open sooner. The resort, located off Interstate 80 near Donner Summit, has been making snow recently.
For more information about Mt. Rose resort services, conditions, or to purchase a lift ticket or season pass, visit www.skirose.com.