If skiing or snowboarding early Friday evening is one's idea of a tremendous way to begin the weekend, there is one more option among Tahoe ski resorts – Mt. Rose Ski Tahoe.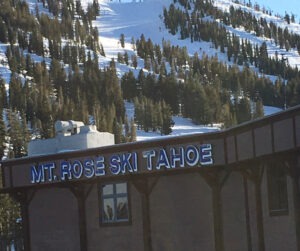 For the first time in resort history, Mt. Rose will stay open late on Fridays, spinning select chairlifts until 6 pm until possibly the end of this season. The resort's tentative closing day is Sunday, April 23.
SEE LATEST TAHOE SNOW REPORT BELOW
Making the most of daylight saving and the resort's huge snow conditions – 588 inches of snow this season – the Nevada ski resort near North Lake Tahoe is extending its operations by two hours on Fridays to give skiers and riders the opportunity to take "bonus runs" this spring.
"We've had an incredible season so far, and strong storms have set us up with deep snow and mid-winter conditions for skiing and riding this spring," said Mike Pierce, Mt. Rose director of marketing. "We're committed to offering exceptional value, and by staying open late on Fridays, we're giving our guests even more opportunities to get some turns in and enjoy the snow."
Although far more prevalent among eastern ski resorts in the U.S., night skiing is not as popular out west. Most ski resorts stop running lifts between 4-4:30 pm each day.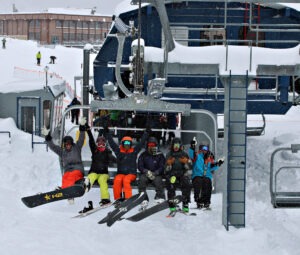 Mt. Rose has tried some "later days" in the past,  but with the addition of the new Lakeview Express chairlift, it feels the idea of some evening skiing has a better chance of being successful. The resort will typically throw a "Sunset Ski Day" with a large Après party one Friday in April. If successful, the Sunset days may become more frequent.
For several decades, Boreal Mountain, located Interstate 80 at Donner Summit, has been offering night skiing, its hours typically 9 am to 8 pm. Standard lift ticket costs start at $99 (when starting at 9 am) and drop to a low of $69 when skiing or riding starts at 3 pm or later.
For multiple years, Palisades Tahoe (formerly Squaw Valley) offered night skiing from 3-7 pm, but that is no longer the case.
In Southern California, Bear Mountain and its sister resort – Snow Summit – have select night skiing throughout the season. Mountain High in SoCal also offers night skiing. Several Washington state ski resorts also provide skiing under the lights.
Mt. Rose calls its Friday evening skiing "Ski G.I.F." The Friday "Daily Special" discounted lift ticket begins at noon and costs $59 to ski or ride until 6 pm.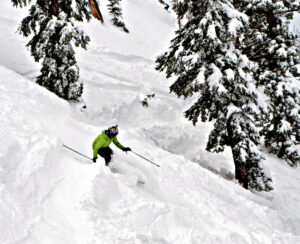 The Lakeview Express, Wizard and Magic lifts will stay open late, along with the main lodge, including the Timbers Bar and the resort's retail store.
Located off the Mt. Rose Highway and approximately 10 miles from Incline Village in North Lake Tahoe and 25 miles from Reno, Mt. Rose has the highest base elevation (8,260 feet) among all Tahoe ski resorts.
Mt. Rose has always been known for offering discounted skiing and riding. It currently has "Two'fer Tuesdays" and "Ladies' Day" on Thursdays.
This spring, the resort is also offering the opportunity to upgrade a lift ticket to a DoubleDown Season Pass that's valid the rest of this season, plus all of 2023-24 season.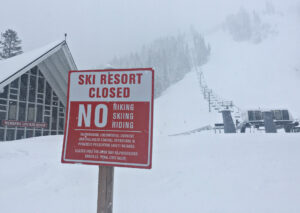 For more information or to purchase a Mt. Rose season pass or lift tickets, visit www.skirose.com.
PALISADES TAHOE CLOSED TUESDAY: Due to expected high avalanche danger and flooding effects over the next 24 hours, the resort decided to close Tuesday.
"Winds are projected to be over 100 mph on our ridgelines this afternoon," Palisades Tahoe spokesperson Patrick Lacey said. "Normally, this would not cause a full closure, but the compounded effect of the continuous wet and snowy weather over the past few weeks puts us in a different situation. We have decided to close lift operations today in order to focus on reopening the mountain terrain more quickly after the storm clears."
It's believed that no other Tahoe ski resort is closed Tuesday. However, due to high winds and a mix of snow and rain, several resorts were on delayed opening and many of them would only be offering minimal available lifts and terrain.
TAHOE SNOW REPORT (March 14)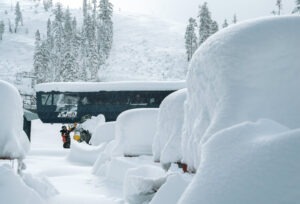 Sugar Bowl: 11 inches
Northstar: 8 inches
Palisades Tahoe: 7 inches
Homewood: 5
Mt. Rose: 4 inches
Tahoe Donner: 4 inches
Kirkwood: 3 inches
Sierra-at-Tahoe: 3 inches
Heavenly: 2 inches
Diamond Peak: 2 inches
Boreal: NA
Soda Springs: NA
Granlibakken: NA