Golf season just ended in the Lake Tahoe region. It's a good thing, because a sizable snow storm hit Tahoe ski resorts and the ski season will begin this week.
The unexpected snow totals led Palisades Tahoe (formerly Squaw Valley Alpine Meadows) to announce it and Mammoth Mountain would be the first California ski resorts to open for the season – this Friday (Oct. 29). This is only the third time in Palisades' history that it has opened in October.
"This will mark one of the earliest openings in the resort's history. It will only be the third time in 72 years of operation that the resort has opened in October," Palisades spokesperson Alex Spychalsky said.
Mt. Rose reported the most snow among Tahoe ski resorts from a storm that started Sunday night and concluded some time Monday morning. Located off the Mt. Rose Highway in Nevada, Mt. Rose received 42 inches of fresh snow.
Squaw Valley (recently renamed Palisades Tahoe) nearly matched Mt Rose, getting 39 inches.
Seven other Tahoe ski resorts were reporting large totals from the first big snow storm since early in 2021. Four ski resorts – Sugar Bowl, Boreal Mountain, Homewood Mountain, Northstar California – got 3 feet (36 inches) of snow.
Not far behind were Diamond Peak and Squaw Valley with 30 inches and Alpine Meadows with 27.
SEE TAHOE SNOW REPORT BELOW FOR RESORT TOTALS.
The "bomb cyclone" and atmospheric rivers forecast didn't continue into perhaps Tuesday as expected. But it certainly delivered a big wallop.
"What a storm! From when it began Sunday night until the last flakes stopped falling early this morning, 27-36 inches of new snow blanketed Sugar Bowl's slopes," a resort email stated.
A statement from Diamond Peak reflected what all Tahoe ski resorts are facing with the possibility of opening early.
"There is still much to be done to get the mountain ready, but Diamond Peak is excited to welcome skiers and riders for the 2021-22 season in early December."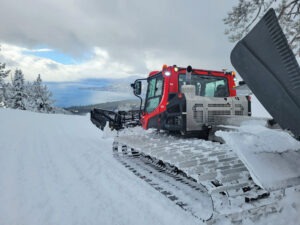 Not only did Tahoe ski resorts get painted white, there was good news regarding the amount of water that was replenishing heralded Lake Tahoe.
The "bomb cyclone" and atmospheric rivers forecast for the Sierra are delivering on their early promise," said Jenn Boyd, of Weidinger Public Relations, who was representing TahoeSouth.com. "The lake level rose 0.6-feet, or approximately two billion gallons of water, according to the United States Geological Survey."
TAHOE SNOW REPORT (October 26)
Mt. Rose: 42 inches
Squaw Valley: 39 inches
Sugar Bowl: 36 inches
Boreal: 36 inches
Northstar: 36 inches
Homewood: 36 inches
Diamond Peak: 30 inches
Alpine Meadows: 27 inches
Sierra-at-Tahoe: NA
Kirkwood: NA
Soda Springs: NA
Heavenly: NA
Tahoe Donner: NA