March delivered some much-needed snow for Tahoe ski resorts, highlighted by 17 inches at Mt. Rose ski resort.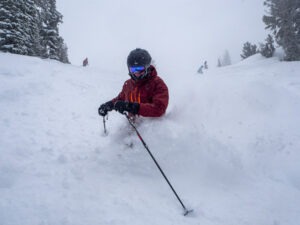 After having no snowfall since mid-January, Tahoe ski resorts received the long-awaited weekend storm. Maybe there will be a "Miracle March" after all. One thing is for sure, winter returned Sunday.
Snowfall started Saturday evening and lasted into Sunday afternoon. Eight Tahoe ski resorts reached double figures in snow totals over a 48-hour period, setting up a rare powder day in the 2019-20 ski season.
Located in Nevada close to North Lake Tahoe, Mt. Rose is situated at 8,200 feet, the highest base area among the Tahoe ski resorts. The resort received a foot of snow at its summit by Sunday morning and added 5 more inches throughout the day, for a total of 17 inches in the 48-hour period.
The additional snow allowed Mt. Rose to reopen the Chutes on Sunday afternoon, its coveted area that's a favorite of expert skiers and riders.
Sierra-at-Tahoe also reported a foot of new snow by Sunday morning and added 3 inches later in the day for a 15-inch total. The new snow at Sierra pushed the South Lake Tahoe ski resort's season total to 2018 inches for the 2010-20 season, the second most among Tahoe ski resorts.
Squaw Valley received 8 inches and added 4 more inches throughout Sunday. The 12 inches of new snow pushed Squaw to 2019 inches, the most among Tahoe ski resorts. Nine Tahoe ski resorts are now reporting 200 or more inches this season.
(SEE TAHOE SNOW REPORT BELOW FOR TOTALS)
Heavenly Mountain pushed past the 200-inch mark (203) after getting 13 inches of new snow. Homewood Mountain added 14 inches and Diamond Peak picked up 12 inches of fresh snow.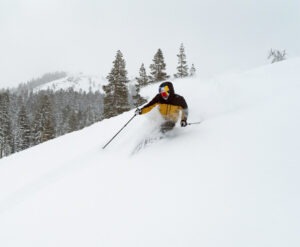 EXTENDED WEATHER FORECAST: The snow has subsided Monday (March 2) when some lifts will be on hold due to high winds. Starting Tuesday, the next four days at Tahoe ski resorts should feature lighter winds, sunny skies, and mild temperatures.
According to Bryan Allegretto, OpenSnow California forecaster, the next system arrives on the West Coast Friday night into Saturday. Don't expect much snow. Mild snowfall may deliver only several inches of snow to Tahoe ski resorts.
But Allegretto believes a large system off the coast for the week of March 9th may slowly move inland with precipitation possible at Tahoe ski resorts on Wednesday into Thursday. The pattern could remain active through mid-month.
TAHOE SNOW REPORT (48-hour total; season totals)
Squaw Valley: 12-219 inches
Sierra-at-Tahoe: 15-218 inches
Alpine Meadows: 12-210 inches
Northstar California: 9-206 inches
Sugar Bowl: 11-205 inches
Boreal Mountain: 8-204 inches
Kirkwood Mountain: 8-203 inches
Heavenly Mountain: 13-203 inches
Soda Springs: 8-200 inches
Mt. Rose: 17-195 inches
Homewood Mountain: 14-180 inches
Diamond Peak: 12-125 inches
Tahoe Donner: 9-120 inches