Another day of snow that began Friday night, added about a half foot of snow to the season totals of many Tahoe ski resorts.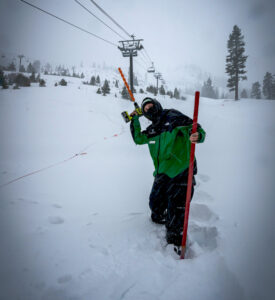 The Tahoe ski resorts received between 2-8 inches of snow at the higher elevations. The snow totals don't include the late morning snow that halted before noon time on Saturday (Feb. 20).
"Snow showers moved through Friday night with a burst of heavier snow as the cold front swept through between 3-5 a.m.," wrote Bryan Allegretto, California Snow Forecaster for OpenSnow.com.
"That brought a fresh 1-6 inches to lake level and 2-7 inches to the mountains. It was a nice refresh of the slopes after a wet day on Friday."
TAHOE SNOW TOTALS (latest snow, season total)
Squaw Valley: 5 – 233 inches
Alpine Meadows: 4 – 232 inches
Sugar Bowl: 6 – 221 inches
Boreal: 6 – 220 inches
Soda Springs: 8 – 219 inches
Sierra-at-Tahoe: 6 – 215 inches
Homewood: 5 – 195 inches
Kirkwood: 5 – 194 inches
Northstar: 5 – 167 inches
Mt. Rose: 6 – 166 inches
Heavenly: 7 – 150 inches
Tahoe Donner: 7 – 146 inches
Diamond Peak: 2 – 133 inches

Homewood Mountain is a family-friendly ski resort that is known for its tree skiing and gorgeous views of nearby Lake Tahoe.
Despite the fresh snow, conditions weren't ideal Saturday. There were gusty winds and a few snow showers Saturday morning. The early snow was expected to bring a final coating up to an inch of snow before the system cleared out in the afternoon.
THE 200-INCH SNOW CLUB: There are six Tahoe ski resorts that have 200-plus inches of snow this season. Squaw Valley tops the list with 233 inches, followed by Alpine Meadows (232), Sugar Bowl (221) and Boreal Mountain (220).
According to Allegretto, averaging the Tahoe ski resorts together, the latest snow bumps the region up to 76% of average snowfall for the year-to-date.
EXTENDED FORECAST: According to Allegretto, there is no snow in the forecast for the remainder of February.
A high pressure builds in over the region Sunday into Monday. That will bring mostly sunny skies and warming temperatures. High temperatures will rise into the 40s at lake level and 30s on the upper mountains Sunday and then temps in the 40s at Tahoe ski resorts Monday.
The weather is expected to cool back down Tuesday into Wednesday, then warm up Thursday, before cooling down again by next weekend. Allegretto says there may be snow storms returning the first week of March.