January snow totals are monumental at Tahoe ski resorts even though the month has just crept past the midway point.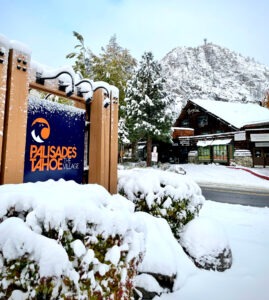 Palisades Tahoe is keeping close track of its January totals that have now hiked its 2022-23 season snow totals to a whopping 350 inches following another reported 9 inches Monday. Palisades Tahoe is among eight Tahoe ski resorts reporting 300 inches or more for the season.
CHECK OUT LATEST TAHOE SNOW REPORT BELOW
Palisades Tahoe says it already resides at 88 percent of its annual average snowfall of 400 inches. The resort's 52-year average for January snowfall is 69.5 inches. Currently Palisades Tahoe has 141 inches this month.
Since the 1970-71 ski season, Palisades Tahoe has only surpassed its current January snowfall total on four occasions. The most January snowfall came in 2018 with 225 inches when the month became known as "Janu-buried." The other three huge January totals for the former Squaw Valley ski resort were 1982 (175 inches), 1995 (171 inches) and 1996 (147 inches).
"Mother Nature has provided Palisades Tahoe with historic snowfall that has only been exceeded four times in the past 52 years. And its only January 16," said Palisades Tahoe spokesperson Madison Condon. "We've seen deep powder turns over the past few weeks and can't wait to see what the rest of this season will hold for our mountain and guests."
MONDAY'S SNOW TOTALS: In comparison to many January days, the latest snow totals are considered modest, even though seven Tahoe ski resorts received 9 inches or more of fresh snow.
Sierra-at-Tahoe had the most snow from Sunday through Monday morning with 18 inches, followed by Homewood with 14. Other Monday snow totals were Kirkwood (11), Mt. Rose (10), Granlibakken (9), Diamond Peak (9), and Palisades Tahoe (9).
"The white gold continues to fall in surprisingly high quantities," said Granlibakken spokesperson DJ Ewan. "We are seeing guests extend their stays and at the same time we see high occupancy ahead of us, as people seem to be anticipating an end to the storms and some really great skiing, boarding and sledding."
MLK GETAWAY DAY: The ride home Monday (Jan. 16) for many vacationers won't be an easy one, especially if you were among the skiers and riders that stuck around to ski on the final day of the holiday weekend, and didn't leave until the afternoon.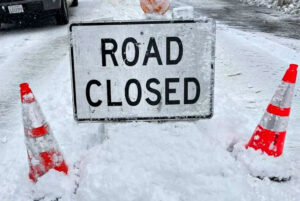 An early-morning departure wasn't possible for anyone traveling along Highway 50 out of South Lake Tahoe. Due to heavy snow and avalanche control, Highway 50 was closed in both directions until lifted later in the day. The closure and another day of challenging weather prompted Sierra-at-Tahoe to not open Monday.
"Our crew will use Monday to dig out and set the mountain up for some incredible bluebird days and conditions (later) this week," a message on the Sierra-at-Tahoe website stated. "For those looking to extend the MLK weekend, or call in sick, this week is going to be legendary, potentially historic riding conditions."
Although it remained open, the traffic was moving slow along Interstate 80 in the westbound direction toward Sacramento. Chains or all-wheel drive was required off all vehicles.
WEATHER FORECAST: The National Weather Service says the storm warning was in place until 10 p.m. Monday, with the heaviest snowfall expected during the morning and afternoon, and tapering off through the evening. But a break is on the horizon.
A smaller storm should arrive late Wednesday afternoon or early evening and stick around into early Thursday morning. A drier pattern begins Friday (Jan. 20). From a weather standpoint, this weekend should be the best ski weekend since before the Christmas holidays with mostly sunny skies and slightly warmer temperatures.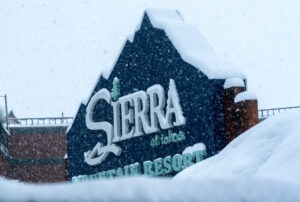 TAHOE SNOW REPORT (Jan. 16)
Sierra-at-Tahoe: 18 inches
Homewood: 14 inches
Kirkwood: 11 inches
Mt. Rose: 10 inches
Granlibakken: 9 inches
Diamond Peak: 9 inches
Palisades Tahoe: 9 inches
Heavenly: 8 inches
Sugar Bowl: 7 inches
Tahoe Donner: 5 inches
Northstar: 4 inches
Boreal: NA
Soda Springs: NA