If you're not driving around in a full-size truck, chances are your means of transportation is a compact SUV, an extremely competitive segment that has more than a dozen vehicles from practically every manufacturer.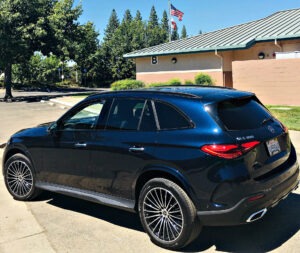 Compact luxury SUVs must deliver in a variety of areas to warrant sizable sales numbers. Interior room and comfort, performance, attractive exterior, high-tech features, and reasonable pricing are among the criteria valued in this class.
Built in Finland and Germany, the Mercedes GLC 300 is one of the finest compact luxury SUVs. It replaced the GLK late in 2015 and immediately won approval as a well-rounded SUV.
The 2023 Mercedes GLC is fully redesigned and kicks off the SUV's second generation. The sleek SUV is beautifully trimmed, relaxing to drive, fuel efficient, and loaded with technology. It has consistently earned high ratings and receives top marks for comfort and refinement.
The redesign did little to change the GLC exterior; it closely resembles the 2022 version. It now has a new "mild" hybrid, four-cylinder engine that has resulted in better fuel economy (25-32 mpg). It's grown slightly in length, improved the cargo area, and the dashboard is similar to the Mercedes S-Class vehicles.
What might have hastened Mercedes to opt for a redesign is last year's sales (36,059) dipped almost in half from an all-time high of 72,439 in 2019. The fierce competition among luxury small SUVs includes the BMW X3, Acura RDX, Audi Q5, Volvo XC60, Lexus NX and a few others.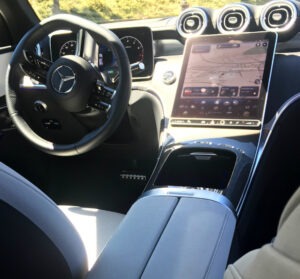 The new turbocharged engine gives the GLC 300 increased acceleration and the power is much appreciated in freeway passing situations. The engine is a turbo 2.0-liter, four-cylinder with a new 48-volt mild-hybrid system that combines to generate 258 horsepower and 295 pound-feet of torque. It goes 0-60 mph in 6.1 seconds, about average for a small luxury SUV.
It has a nine-speed automatic transmission and rear-wheel drive is standard; all-wheel drive (4Matic) is an option. The GLC curb weight ranges between 4,167 to 4,277 pounds and its towing capacity is 3,500 pounds.
We found the compact SUV had a sporty feel to it. The steering is effortless and the GLC really hugs the road well on tight turns and is simple to maneuver in small parking lots.
Standard driver-assistance safety features include rearview camera, blind-spot monitoring, forward collision warning, forward automatic emergency braking, driver-attention monitoring, automatic high-beam headlights, and vehicle exit warning.
AT A GLANCE – 2023 MERCEDES GLC 300
Performance: turbocharged 2.0-liter, four-cylinder, 48-volt hybrid system, 258 horsepower
Mileage estimate: 25-32 mpg
Price estimate: $47,200 to $68,200
Warranty: 4 years/50,000 miles; drivetrain: 4 years/50,000 miles; roadside assistance: 4 years/50,000 miles; corrosion: 4 years/50,000 miles
There's lots to admire when it comes to the GLC interior. It's a handsome cabin that is highlighted by top-notch materials. It offers comfort for all five passengers and will be alluring to folks who love a techy vehicle that also has the added benefit of being fairly intuitive. We liked the abundance of leather and soft-touch plastic, plus wood and aluminum.
The GLC 300 comes standard with a 12.3-inch digital instrument cluster behind the steering wheel and an 11.9-inch touchscreen and touch-sensitive controls. Also standard is the helpful "'Hey Mercedes'" virtual assistant as well as wireless Apple CarPlay and Android Auto, Bluetooth, HD Radio, wireless device charging in the center console, and a Wi-Fi hot spot.
Cargo area capacity behind the rear seats has increased to 21.9 cubic feet, which is still below average for the class. The room expands to 56.3 cubic feet with the back seats folded down.
One thing overlooked was price. The 2023 Mercedes GLC 300 starts at approximately $47,200 and can climb quickly to around $68,200. The sticker price is a bit higher than some rivals.
Weidel on Wheels is featured regularly on www.tahoeskiworld.com. Auto writer Jeffrey Weidel can be reached at [email protected]. Follow him on Twitter at @jeffweidel.