Bid farewell to the popular Mazda CX-9, which is being replaced by the slightly larger CX-90.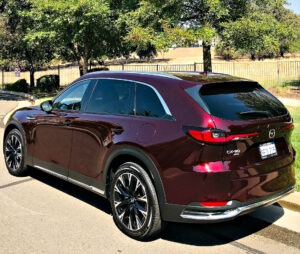 It's not like there were major issues with the flagship CX-9, which successfully debuted in 2007 and had record sales of 34,580 in 2022. Mazda says 2023 will be the final year of production for the mid-size crossover SUV. The Japanese auto manufacturer was so anxious to debut the new 2024 Mazda CX-90 that sales began in January of this year.
The CX-90 will likely make SUV buyers forget all about the CX-9 because the new SUV is larger, faster, more comfortable and luxurious, and has a much larger third row of seating and can transport six to eight people.
The CX-90 provides ample room throughout the cabin and comes with a choice of a two- or three-seat bench in the third row. It has a standard turbocharged V6 engine and all versions of the CX-90 come with all-wheel drive and an eight-speed automatic transmission.
Among the options in the CX-90 lineup is a plug-in hybrid (PHEV) that has a range of 26 miles in electric-only mode. It comes with 17.8-kWh battery pack that takes roughly two hours and 20 minutes to go from zero to 100 percent via a 240-volt power source.
The CX-90 PHEV employs a 2.5-liter, four-cylinder engine and a single electric motor to generate a combined 323 horsepower and 369 pound-feet of torque. It's faster than the standard CX-90 (turbocharged 3.3-liter, V6, 280 horsepower, 332 pound-feet of torque), going 0-60 mph in 5.9 seconds.
The Turbo S adaptation of the CX-90 generates 340 horsepower and 369 pound-feet of torque. All three versions of the CX-90 get around 24-28 mpg. The CX-90 can tow up to 5,000 pounds when properly equipped.
The ease of driving the CX-90 is another plus. It's quicker and handles better, providing more stability than the CX-9. All CX-90s come with standard driver safety features that include frontal collision mitigation, adaptive cruise control, blind-spot warning, rear cross-traffic warning, lane keeping assistance, driver attention monitor, and safe exit assist.
Mazda did a nice job designing the CX-90 cabin, giving it both style and functionality. It has a standard 7-inch digital instrument cluster display and a user-friendly 10.25-inch infotainment touchscreen. However, not everyone will like that it needs to be controlled with a rotary knob on the center console. Note that there are several physical buttons that control major functions.
Additional standard features include 19-inch alloy wheels, roof rails, tri-zone automatic climate control, synthetic leather upholstery, Apple CarPlay and Android Auto smartphone integration, HD Radio, Bluetooth, four USB ports, voice recognition, and eight-speaker audio system.
AT A GLANCE – 2024 MAZDA CX-90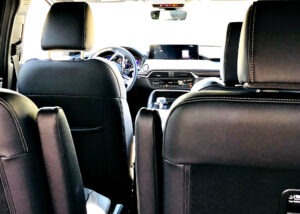 Performance: turbocharged 3.3-liter, V6, 280 horsepower; Turbo S 3.3-liter, V6, 340 horsepower; electric motor, 2.5-liter, four-cylinder, 323 horsepower
Mileage estimate: 23-28 mpg
Price estimate: $39,700 to $59,950
Warranty:3ears/36,000 miles; drivetrain: 5 years/60,000 miles; roadside assistance: 3 years/36,000; corrosion: 5 years/unlimited; battery
The front seats are comfortable and offer plenty of head and leg room even for taller folks. The second row is either a bench or more stylish captain's chairs. Even though the CX-90's third row is more spacious than the CX-9, it's not a place where adults will want to reside for too long.
The cargo area behind the third row measures either 14.9 cubic feet (three-seat third row) or 15.9 cubes (two-seat third row). It expands to 40 cubic feet with the third row down and the space grows to 75.2 cubes when all seats are folded down.
Overall, the new 2024 Mazda CX-90 is an upgrade from the CX-9 and will likely be quickly embraced. The midsize SUV has many fine qualities and is more capable of competing against some stiff competition.
Weidel on Wheels is featured regularly on www.tahoeskiworld.com. Auto writer Jeffrey Weidel can be reached at [email protected]. Follow him on Twitter at @jeffweidel.