Due to severe conditions in the Lake Tahoe region, many Tahoe ski resorts are closed Sunday.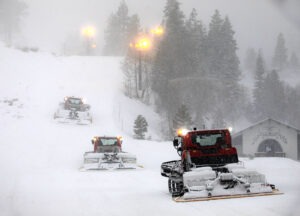 However, that doesn't mean there is no skiing or snowboarding today. Three Tahoe ski resorts – Palisades Tahoe, Diamond Peak, Mt. Rose, and possibly a fourth (Kirkwood) –  have managed to dig out from yet another snow storm and will be open Sunday (March 5) for skiers and riders who are braving the difficult conditions.
CHECK OUT TAHOE SNOW REPORT BELOW
A message on the Sierra-at-Tahoe website summed up the feelings of the nine Tahoe ski resorts that aired on the side of caution by closing Sunday.
"Snow is falling and the winds are howlin," the Sierra-at-Tahoe message state succinctly.
Heavy snowfall has resulted in widespread travel impacts, including the closure of Interstate 80 and Highway 88. In addition, winds Sunday could gust as high as 50 mph with up to 95 mph gusts along the Sierra Crest.
HAZZARDOUS WEATHER CONDITIONS: Sunday is a horrible travel day and so was Saturday when many Tahoe ski resorts had issues due to the severe weather.
There were accidents in the Ski Run Boulevard area near Heavenly late Saturday afternoon when whiteout conditions ensued. Heavenly closed early due to poor road conditions, with shuttle service temporarily suspended, and skiers were asked for patience while plows cleared the nearby closed roadways.
Interstate 80 is once again closed Sunday in both directions between Applegate (near Colfax) and the Nevada state line. There has been no time frame for it reopening.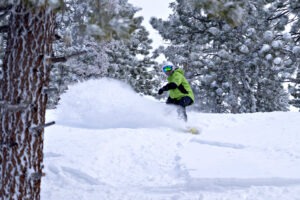 On Highway 50, chains are required three miles east of Placerville to Meyers in South Lake Tahoe. State Route 88 was closed Sunday from 3.5 miles east of Silver Lake to Kirkwood, and on the other side from two miles east to five miles west of Picketts Junction.
WHAT RESORTS ARE OPEN SUNDAY: Although Palisades Tahoe's upper mountain lifts were all closed Sunday, the resort had five lifts and 100 trails available, including the Red Dog, Resort and Far East Express chairs.
With 15 more inches arriving by Sunday morning, Palisades Tahoe now has 554 inches of snow for the 2022-23 season. That total is second to only Sugar Bowl (571). Five other Tahoe ski resorts also have 500-inches or more of snow this season.
Diamond Peak is a resort that is often able to remain open when most Tahoe ski resorts are closed. Located in Incline Village, the resort is wind protected because it has lots of trees to help block some of the worst of the winds. It's also devoid of any terrain where avalanche danger is a concern.
On Sunday, practically all lifts were running at Diamond Peak, including Crystal Express, which accesses the resort's summit.
"Diamond Peak is naturally more wind protected than most due to our lower-elevation location tucked into the Carson Range versus many other (Tahoe) resorts that are on more exposed ridge tops," said Diamond Peak spokesperson Paul Raymore.
Mt. Rose has benefitted from the Mt. Rose Highway being reopened Sunday. The Nevada ski resort, located roughly 10 miles from Incline Village, has five lifts open Sunday, including Lakeview and Northwest Express.
Kirkwood was attempting to get some terrain open (chairs 5, 6, 7, 9) by 1 pm Sunday, but they remained closed at the noon hour due to wind and visibility issues. Note that Highway 88 is still closed in both directions. No one should plan to head to Kirkwood without first checking road conditions.
"Mountain Operations teams are out now working," said Dennis Baggett, spokesperson for Kirkwood and the two other Vail Resorts (Heavenly, Northstar) in Tahoe. "The wind has been on the low end of forecast, so that is helping. It is important to do this avalanche mitigation work when the conditions allow. That will help us be better set up for the next several days, whether we are ultimately able to open today or not."
On Saturday, Kirkwood had five lifts operating by early morning, but due to harsh conditions, all chairs were closed for the day by 1:20 pm due to wind and visibility.
WEATHER FORECAST: Heavy snow is predicted for Sunday morning and then the snow intensity will come down later into the evening, although snow showers will continue. Ridgetop winds are gusting up to 60-70-plus mph, but should drop to around 40-50 mph during the afternoon. Sunday is a cold day with temperatures in the 20s at the base and the teens up top.
The National Weather Service (NWS) in Reno has a winter storm warning in effect through 4 a.m. Monday with more than a foot of snow expected to fall Sunday, on top of the 18 or so inches that fell on Saturday above 7,000 feet.
"Travel could be very difficult to impossible," warns the NWS. "Strong winds may cause tree damage and lead to power outages. Blowing and drifting snow may bring near zero visibility at times and create rapid disorientation if attempting to travel. Lake waters will be rough and hazardous."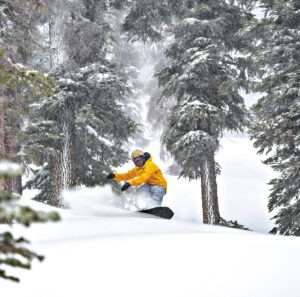 The NWS forecasts there will be additional weaker waves of snow showers through Wednesday with high temperatures remaining in the 20s.
TAHOE SNOW REPORT (March 5)
Sugar Bowl: 31 inches
Tahoe Donner: 28 inches
Northstar: 21 inches
Diamond Peak: 21 inches
Mt. Rose: 20 inches
Heavenly: 17 inches
Palisades Tahoe: 15 inches
Homewood: 18 inches
Kirkwood: 15 inches
Sierra-at-Tahoe: 11 inches
Granlibakken: NA
Boreal: NA
Soda Springs: NA