It seems preposterous in California, given the recent heat wave in many parts of the state, that skiing is still taking place.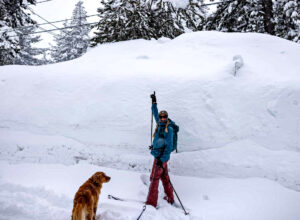 Yet, that is the case.
Wanna make a couple of turns before the curtain truly comes down on the 2022-23 ski season? Then head to Mammoth Mountain ski resort, where skiing and riding is taking place until Aug. 6. Timberline Lodge in Oregon, which often stays open into the summer, is the only other public access ski resort in the U.S. that is still open.
"We are stoked to announce that we're staying open until Aug. 6," Mammoth recently announced on its Instagram account.
Located on California's Eastern Sierra range, approximately 100 miles south of the Nevada state line and 50 minutes from the eastern gate of Yosemite, Mammoth often stays open into June or July. But August? Not too often.
Mammoth had planned to remain open this year through the end of July, but now the closing date is pushed back one more week. This is only the third time in the resort's 69-year history that Mammoth has remained open into August. The other two times were 1995 and 2017.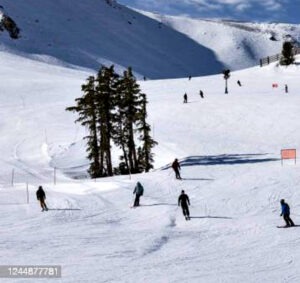 The reason the ski season is extending into August is obvious. Mammoth received a staggering amount of snowfall this season, the most in resort history. It got 885 inches of snow at its summit and 715 at its base lodge area. In an average season, Mammoth usually gets around 400 inches of snow at its base.
The snowfall total is huge and so is the resort. Mammoth has more than 3,500 skiable acres, and has 30 lifts that access roughly 150 trails. With reportedly 1.3 million annual skier visits, Mammoth is currently the third most frequented ski resort in the U.S.
On Sunday (July 23), the low temperature is supposed to be 53 degrees and the highs will only get to 68. The resort still has skiing top-to-bottom out of its Main Lodge. Note that there is no beginner terrain available. Skiing and riding hours are from 7:30 am until Noon. Weather permitting, Mammoth has Broadway, Face Lift, Chair 23 and the Panorama Gondola running this weekend.
PALISADES TAHOE: Following an extremely long season, Palisades Tahoe was the last resort open in Lake Tahoe this season, shutting down for good on Fourth of July.
That's right, there was Fourth of July skiing and snowboarding this summer, thanks to 723 inches of snowfall the Tahoe ski resort received in the 2022-23 season, the most in resort history.
Aside from Palisades Tahoe, no other Tahoe ski resort was open past the middle of May. Diamond Peak closed May 1, Heavenly stopped running its lifts May 7, and Kirkwood concluded its season May 14.