There were no tears of joy this time. Maddie Bowman of South Lake Tahoe crashed three consecutive times and could not repeat as women's Olympic freestyle skiing gold-medal champion.
No matter what Bowman did, she just couldn't pull off her final trick in the halfpipe, a right-side 900. On the last of three attempts Tuesday at the Pyeongchang Olympics, Bowman landed too low and hit the snow hard, falling for a third time as her quest for a second straight gold medal went down with her.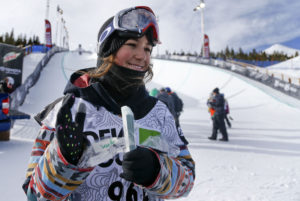 As she rose from the snow at Phoenix Snow Park and skied down the hill following her final fall, Bowman closed her eyes tight, attempting to keep the tears from falling.
Although the Sierra-at-Tahoe skier failed to make the podium, Lake Tahoe was represented well in freestyle skiing. On her third and final journey into the halfpipe, Brita Sigourney produced her best effort, getting a score of 91.60.
Sigorurney edged U.S. teammate Annalisa Drew for the bronze medal. Sigourney finished sixth in freestyle skiing at the Sochi Olympics.
Sigourney, 28, came into these Olympics after winning silver in the X Games last month. It was the fourth X Games medal in an injury-plagued career for Sigourney, who grew up in Carmel and trained at Squaw Valley Alpine Meadows.
On her first run in Sunday's qualifying, she scored a 90.60, the highest total early in the competition. That score was the third highest going into Tuesday's finals.
Canadian skier Cassie Sharpe was clearly the best skier, putting together two terrific runs in compiling a score of 95.80 to capture the gold medal. Marie Martinod of France also showed great skill and creativity in the halfpipe, but had to settle for the silver medal with a top score of 92.60.
Top 5 Finishers
Cassie Sharpe, Canada, 95.80
Marie Martinod, France, 92.60
Brita Sigourney, United States, 91.60
Annalisa Drew, United States, 90.80
Ayana Onozuka, Japan, 82.20