We've always been enamored by this classy sedan. And after spending a week behind the wheel, we are happy to report the 2023 Lexus LS 500 is aging gracefully.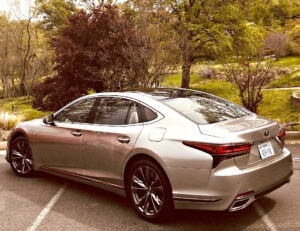 That doesn't mean improvements can't be made. After slipping a bit in the past, Lexus did a comprehensive redesign in 2018 – inside, outside and underneath. The changes placed the LS back in the upper echelon of large luxury sedans with Audi, BMW and Mercedes-Benz.
However, that was five years ago and some minor updates would be appropriate again. When you are among the best of the best, the competition is fierce to stay on or near the top. Note that in our research, we found the LS 500 is less pricey than its prestigious rivals.
The Lexus LS brand has existed through four generations and has traditionally been a luxury sedan that rewarded its owner with a super-quiet ride, terrific performance, smooth handling, along with a roomy, comfortable interior.
Instead of expanding on the very capable LS 460, Lexus decided instead to unveil the new LS 500 in 2018. The Japanese automaker also came out with a hybrid LS 500. From our perspective, it makes more sense to avoid the hybrid given its higher price and limited fuel economy improvement.
The latest version of the traditional LS 500 remains a very refined and powerful vehicle that cruises effortlessly on any drive – freeway, challenging country road, or simply a trip to the grocery store. It performs like a highly efficient old-school sedan and remains the flagship model in the Lexus lineup.
There's practically no chance of feeling uncomfortable in the stylish LS 500 cabin. It has 16-way power-adjustable heated and ventilated front seats that also include an optional massage function. Seating is extremely comfortable up front and in the back seat, although the low roofline does hinder the driver's rear view a bit.
Trunk space measures 17 cubic feet, which is fine. But one change we would like to see is the rear seats being capable of folding down. They don't in the current LS 500, a drawback if one wants to use the vehicle for some sizable cargo.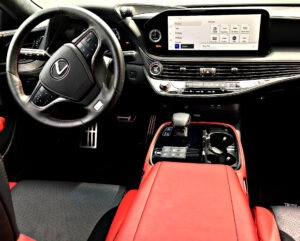 The LS 500 comes loaded. Standard features include a moonroof, dual-zone automatic climate control, leather upholstery, heated and leather-wrapped steering wheel, power rear-window sunshade, 12.3-inch touchscreen, wireless Android Auto and Apple CarPlay, Wi-Fi hot spot, navigation, 12-speaker stereo, voice activation, and multiple USB ports.
We like that the technology is both intuitive and cool looking, and no longer has a frustrating, fussy touchpad on the center console to try and manipulate. Speaking of the console, we wish it were smaller, had more space for small storable items, and included a wireless charger.
AT A GLANCE – 2023 LEXUS LS 500
Performance: twin turbocharged, 3.4-liter, V6, 416 horsepower
Mileage estimate: 18-29 mpg
Price estimate: $76,900 to $83,800
Warranty: 4 years/50,000 miles; drivetrain: 6 years/70,000 miles; roadside assistance: 4 years/unlimited; corrosion: 6 years/unlimited
Safety is also a major focus with the Lexus brand. The LS 500 has standard driver assistance features that include forward collision warning, pedestrian and cyclist detection, lane-departure warning, traffic-sign recognition, blind-spot monitoring, automatic high-beam headlights, front and rear parking sensors, and rain-sensing windshield wipers.
Although we feel the LS 500 should include a V8 option, there's no complaints with the current engine. One feels the power with the twin-turbocharged 3.4-liter, V6 engine that generates 416-horsepower and 442 pound-feet of torque. Equipped with a 10-speed automatic transmission, it goes 0-60 mph in 4.9 seconds and tops out at 140 mph. Fuel economy is a mediocre 18-29 mpg.
The Lexus LS brand has been around for more than 30 years and remains a top-notch luxury sedan. The 2023 Lexus LS 500 remains a tempting buy for anyone shopping for a luxury car.
Weidel on Wheels is featured regularly on www.tahoeskiworld.com. Auto writer Jeffrey Weidel can be reached at [email protected]. Follow him on Twitter at @jeffweidel.