The death today of skier Cole Comstock brought back memories from 38 years ago when a deadly avalanche at Alpine Meadows on March 31, 1982 killed seven people.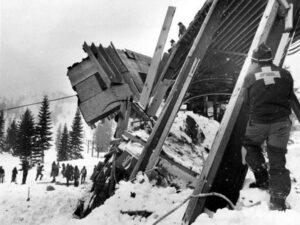 It was snowing hard for four straight days and the resort was closed in the spring of 1984, but there were still some people who had to report to work. The avalanche hit the Summit Chairlift Terminal building, the main ski lodge, several small buildings, and two chairlifts, and it buried the parking lot under 10 to 20 feet of snow.
Of the seven people in the Summit Building at the time of the avalanche, three were killed. Four people were buried in the parking lot and were also killed. Altogether, 12 people and one dog were victims of the avalanche. The dog survived a one-day burial. The total monetary loss was approximately 1.6 million dollars.
Among the survivors was Anna Conrad, who was Anna Allen at the time of the avalanche. She miraculously survived the avalanche despite being trapped for five days. She was discovered in an air pocket beneath several feet of snow and debris in an A-frame building, the Alpine Meadows lodge.
She was in a building when a wave of snow slammed into the lodge. The building was crushed, but the debris helped create an air pocket that saved Conrad's life.
Others weren't so fortunate. Conrad's boyfriend and three of her colleagues at Alpine Meadows lost their lives in the avalanche.
"I had absolutely no idea what had happened, it was so instantaneous," Conrad recalled years later. "I did a lot of sleeping and thinking about friends. I just kept telling myself I could do it, I could do it. They'd find me."
Conrad survived by fighting through frostbite and severe dehydration during the five days she was buried. That she lived was miraculous. A Canadian study reports that people buried in an avalanche are unlikely to survive if not rescued within 20 minutes, because of the dangers posed by trauma and suffocation.
On that fateful day, Conrad and her boyfriend, Frank Yeatman, both UC Davis students, planned to go cross-country skiing in the fresh powder. She worked at Alpine Meadows as a lift operator.
She stopped at her work locker at the Summit Terminal Building to pick up her ski pants. The resort was closed following five days of storms that had blanketed the area with up to 7 feet of wet snow. She was walking through a hallway to the locker room, where Yeatman waited.
The avalanche knocked Conrad out cold, and she would not wake up until a day later. She had a concussion, short-term amnesia and absolutely no understanding of what had happened.
"I didn't know I was under snow," she said.
Conrad believes it was two to three days before she understood she had been in an avalanche. So, she went into survival mode, sucking on mud and snow to hopefully stay alive.
She was originally discovered by a rescue dog, a 9-year-old German shepherd named Bridget who had detected her scent on the third day. But rescuers backed off and she wasn't discovered until two days later when again Bridget stiffed out Conrad's presence.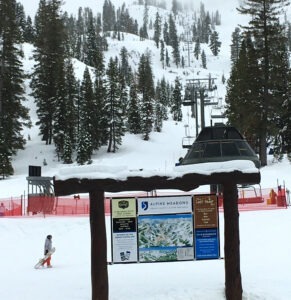 Following her rescue, Conrad spent two months in a hospital. A portion of her right leg and the toes on her left foot were irreparably damaged by frostbite. The heroic Conrad not only began skiing again, she is still teaching safety at Mammoth Mountain ski resort.
Conrad said she sought to live a meaningful life in the years after the Alpine Meadows avalanche. She married and raised two children, who have graduated from college. She continues to work in the ski industry and remains a skilled and passionate skier, despite having to do it with a prosthetic limb that she straps on to replace the lower leg she lost in the avalanche.
"That was one of my goals, not to let the avalanche beat me," Conrad said.