Although we've always been a fan of the Lexus RX brand, the one aspect missing was performance. Looking for some thrills – there were none. It's always been rather blasé to drive.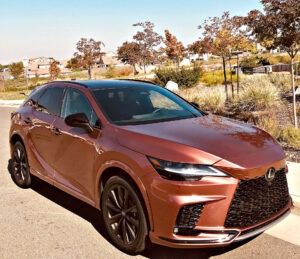 It took more than two decades since the stylish midsize SUV was introduced in 1998, but Lexus has finally manufactured an RX with some actual giddy-up. Before one gets too caught up in the speed aspect, it's not like the 2023 Lexus RX 500h with its F Sport Performance will wow anyone, but at least it feels quick for once.
The RX 500 hybrid features a turbocharged 2.4-liter, four-cylinder engine that combines with two electric motors to generate 366 horsepower and 406 pound-feet of torque. It's a six-speed automatic transmission with standard all-wheel drive that goes 0-60 mph in a respectably quick 5.9 seconds and overall feels more athletic.
Taken on an extended trip from Northern California to the state's gorgeous central coast region, the RX 500h proved a terrific companion. It cruised down the interstate with great ease, comfort and efficiency. It also handled extremely well on some challenging roads along scenic coastal Highway 1.
Credit Lexus with introducing the first-ever luxury crossover sport utility vehicle, combining the features of an SUV with a luxury sedan. The RX was originally a compact model, that judging by who was mostly driving them, women immediately embraced. Now in its fifth generation, the RX brand has a bigger and bolder exterior than the original model.
Sales has been historically steady for the RX. However, after 10 straight years of sales over 100,000, the RX brand dipped a bit (96,401 in 2022). The addition of the new 500h F Sport Performance could help push RX sales back over six figures again. Note the 500h is costly, ranging from roughly $61,700 to $69,700.
Lexus doesn't make the decision an easy one when it comes to purchasing an RX. The 500h with its F Sport Performance is one of 10 trims offered across the 2023 Lexus RX range. All the RX models are sharp looking, offer a good ride, solid performance, and have their share of upscale amenities that one expects from a luxury SUV. For this review, we will focus primarily on the 500h.
The 500h seats five passengers comfortably and has good cargo space. The RX 450hl (the letter L refers to extended length) is the only model that offers a third row of seating and can accommodate up to seven passengers.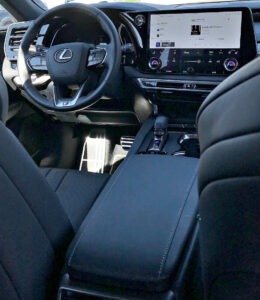 Among the standard driver safety features include pre-collision system, road sign assist, lane tracing assist, adaptive cruise control with a lane-centering feature, emergency braking with pedestrian and cyclist detection, and lane departure alert with steering assist.
AT A GLANCE –2023 LEXUS RX 500h
Performance: two electric motors, turbocharged, 2.4-liter, four-cylinder, 366 horsepower
Mileage estimate: 27-28 mpg
Price estimate: $61,700 to $69,700
Warranty: 4 years/50,000 miles; drivetrain: 6 years/70,000 miles; roadside assistance: 4 years/unlimited; corrosion: 6 years/unlimited; hybrid components: 8 years/100,000 miles
The new Lexus SUV provides more rear legroom and cargo space – 29.6 cubic feet behind the second row and expanding to 46.2 cubes with the seats folded to the floor. We found the comfortable seating held up well on a couple of five-hour plus drives.
Lexus revived some of its technology, adding a fully digital dashboard. It has a standard 9.8-inch horizontal touchscreen display and there's also a 14-inch option. We were glad to see the annoying and difficult to use touchpad controller is gone, hopefully for good. The "Hey Lexus" voice command controls is far more helpful than the touchpad.
It's about time Lexus added a performance element to its classy SUV. Indeed, the 2023 Lexus RX 500h with its F Sport Performance is a welcome addition, giving it more overall appeal in its competition with other luxury brands.
Weidel on Wheels is featured regularly on www.tahoeskiworld.com. Auto writer Jeffrey Weidel can be reached at [email protected]. Follow him on Twitter at @jeffweidel.