As advertised prior to this much anticipated storm, the snow arrived in bunches by Monday morning (Dec. 13) at Tahoe ski resorts.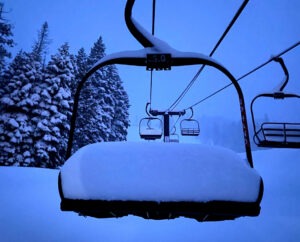 Four Tahoe ski resorts received between 21 to 24 inches from the snow that began to fall early Sunday morning and was still coming down more than 24 hours later. It was a welcome sight for a region desperate to get the 2021-22 ski season underway.
And more snow is on the way – perhaps as much as 6 feet. Forecasters are predicting the heaviest precipitation and falling snow levels should take place Monday night into Tuesday morning.
TAHOE SNOW REPORT (Dec. 13)
Mt. Rose: 24 inches
Palisades: 23 inches
Sugar Bowl: 23 inches
Soda Springs: 21 inches
Kirkwood: 18 inches
Tahoe Donner: 16 inches
Boreal: 16 inches
Northstar: 15 inches
Diamond Peak: 12 inches
Heavenly: 12 inches
Homewood: 7 inches
Sierra-at-Tahoe: NA

Northstar was the latest Tahoe ski resort to open. The Sunday opening took place with snow falling throughout the day.
TAHOE RESORTS OPEN: There are currently seven Tahoe-area ski resorts running lifts as of Monday morning. By the week's end, expect every ski resort in the region to be open for skiing and snowboarding.
All three Vail Resorts in Tahoe – Northstar, Heavenly, Kirkwood – opened over the weekend and Mt. Rose started running its lifts for the first time Friday (Dec. 10).
Boreal, Palisades (formerly Squaw Valley Alpine Meadows) and Soda Springs have been open for weeks, but only with minimal access for skiing and riding.
"The forecast is calling for multiple feet of snow between now and Thursday," Palisades spokesperson Alex Spychalsky said. "While our skiable terrain is limited (right now), Mother Nature is giving us a lot to look forward to. The current plan is to open more lifts and trails this week."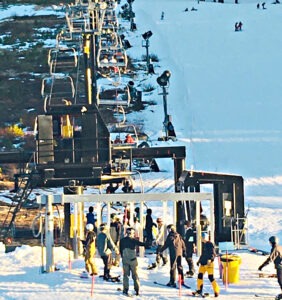 If planning to ski or ride this week, note that winds are generally high, roads could be treacherous, and temperatures will dip into the teens Tuesday and Wednesday evening.
WEATHER FORECAST: According to Craig Shoemaker, a meteorologist for the National Weather Service (NWS), a sizable atmospheric river is delivering steady snow to the Lake Tahoe region. He predicts the strongest weather to arrive Monday afternoon.
At Tahoe ski resorts, areas above 6,000 feet could get up to 6 feet of snow with as much as 2 to 3 inches of snow falling an hour.
The forecast calls for elevations above 4,000 feet seeing between 2 to 3 feet of new snow by Tuesday morning.
According to OpenSnow Forecaster Bryan Allegretto, snowfall starts again Wednesday and continues into Thursday.
Allegretto predicts as high as 22 inches of snow for Kirkwood and 19 inches for Palisades over the two-day period. Every Tahoe ski resort is expected to get between 10 to 17 inches of snow over the two-day period.