It didn't take long for Kirkwood Mountain ski resort in Lake Tahoe to fully open the mountain for the 2018-19 season.
Kirkwood Mountain opened Nov. 24 and around two weeks later it announced plans of having its entire mountain available for skiing and snowboarding Saturday, Dec. 8, weather permitting. Kirkwood Mountain will be the first fully-open resort in the Lake Tahoe Basin.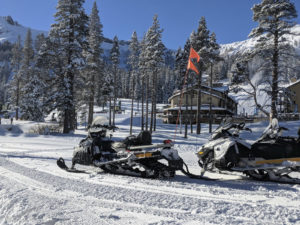 Mother Nature continues to aid in expanding terrain at two other Vail Resorts – Northstar California and Heavenly Mountain. Both Lake Tahoe resorts opened more terrain Thursday, Dec. 6 and hope to continue that trend. Northstar received 11 inches of snow in the past 48 hours, while Heavenly reported 7 inches and Kirkwood had 4.
Kirkwood has received more than 7 feet of snow to date, allowing the resort's mountain operations team to prepare to open the backside of the mountain ahead of schedule to skiers and riders. The Iron Horse, Caples Crest, and Sunrise Lifts are all scheduled to start spinning this weekend, offering access to intermediate and expert terrain.
"Kirkwood's location in the Sierra allows us to take advantage of every flake that falls," said Kirkwood Vice President and General Manager Tom Fortune. "We receive the most snow in the Lake Tahoe basin and it's dry to boot. This expanded terrain is the result of excellent early-season snow conditions and ongoing preparation from our mountain operations team."
Heavenly Mountain has also been receiving plenty of fresh snow, making it possible for the Stagecoach chairlift to begin operating Thursday. Heavenly expects to open the California side of the resort and the Tram on Saturday. The expanded terrain, weather permitting, will offer access to an additional 48 acres of intermediate and expert terrain at Stagecoach Lodge, and more than 60 acres of scenic terrain above the California Lodge.
On the North side of the lake, Northstar California plans to open skier and rider terrain on the Backside and Zephyr regions on Saturday. These additional areas provide significantly more intermediate and advanced terrain, accessed by Tahoe Zephyr Express and Backside Express respectively, for a diverse experience to accommodate various skier and rider abilities.
For daily updates on terrain and mountain conditions, visit www.SkiHeavenly.com, www.NorthstarCalifornia.com and www.Kirkwood.com.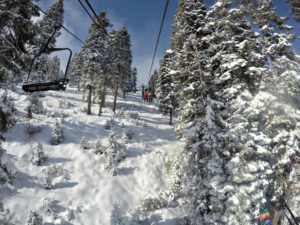 Two more ski resorts – Homewood Mountain and Tahoe Donner – are scheduled to open Friday. That brings the total of Lake Tahoe ski resorts open to 11.
Tahoe Ski Resort Openings
Boreal Mountain: Open
Diamond Peak: Dec. 13
Heavenly Mountain: Open
Granlibakken: Dec. 14
Homewood Mountain: Dec. 7
Kirkwood Mountain: Open
Mt. Rose: Open
Northstar California: Open
Sierra-at-Tahoe: Open
Soda Springs: Open
Squaw Valley Alpine Meadows: Open
Sugar Bowl: Open
Tahoe Donner: Dec. 7