It's been another spectacular season for Jamie Anderson, a decorated Olympic Slopestyle snowboarder who calls Sierra-at-Tahoe home.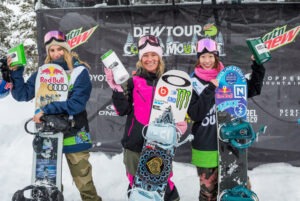 The South Lake Tahoe native recently won her 11th Dew Tour championship, besting the field of riders in Slopestyle at Copper Mountain in Colorado. Anderson managed to get another gold medal in somewhat poor conditions. It was snowing and event officials decided to exclude the three jumps at the bottom due to loose snow and wind.
Anderson put together a 92.66 score to take first in the Dew finals, beating out Miyabi Onitsuka (91.66) and Anna Gasser (88.00).
"With changing conditions, my plan today (Feb. 9) was the 'no plan' plan," said Anderson in an interview with U.S. Ski & Snowboard. "I wanted to come up to the course to check the conditions and then see what I could link together. I hadn't hit the wall ride all week or tried the switch 270 on the first rail. I was just happy to slowly put the pieces together."
Anderson, 29, is now the most decorated women's Slopestyle athlete. She took gold medals in both the 2014 Sochi and 2018 Pyeongchang Olympics – making her the only woman ever to have won a gold medal in Olympic Slopestyle snowboarding. And it's clear that any woman seeking Slopestyle gold is going to have to go through Anderson first.
Despite her status, Anderson isn't taking anything for granted.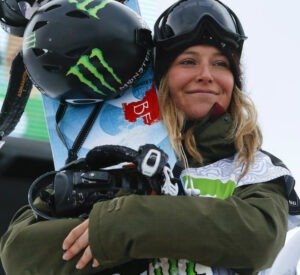 "I look at a lot of these young girls that I compete with and I'm really inspired by their courage and their strength and everything they're pushing, and it makes me want to tap into my own power and see what I'm also capable of," said Anderson, who learned to snowboard at Sierra-at-Tahoe, a ski resort she still frequents and considers home.
This has been a great stretch of competition for the talented and fearless Tahoe snowboarder. Anderson also won the World Cup slopestyle event at Mammoth Mountain earlier this month and captured a sixth X Games gold medal in January.
At the X Games, Anderson was the only rider to make use of the wallride feature, hitting a nose slide on it. She captured the lead on her third run of the day with a score of 92.66.
Thirteen years after turning pro, Anderson is no stranger to nasty injuries derailing her plans. From a nasty break to her right collarbone while training for Dew Tour 2015 to breaking her left foot the year prior to fracturing her pelvis in 2009 at the Burton European Open, and rupturing her spleen two months later at the U.S. Open, Anderson has put her body through quite a lot.
Injuries have certainly slowed her down, but Anderson has still earned a medal in every single X Games Slopestyle contest she's entered, a perfect 15 for 15.
"It was really pretty easy for a lot of years," Anderson recently told Michelle Bruton in a Forbes story. "But it's gone crazy. With the new generation just being so on it, to be honest it's been a positive inspiration for me and has made me realize we're capable of things I didn't think were possible, which is huge."