A third straight Olympic gold medal in women's snowboard slopestyle will have to wait for South Lake Tahoe's Jamie Anderson.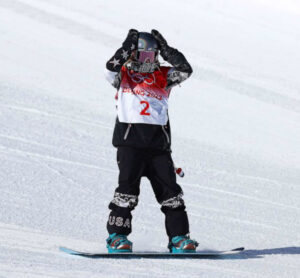 The outstanding snowboarding prodigy from Sierra-at-Tahoe, failed to delivery in three error-prone runs Saturday at the Beijing Olympics. Her top score (60.78) wasn't close to earning Anderson a medal. She finished 9th.
The 31-year-old Anderson fell early on her first run in the top rail section. On her second of three attempts, she failed to execute a trick – instead settling for an unimpressive quarterpipe that none of the other competitors were using.
Anderson, who captured gold medals in 2014 and again in 2018, fell in her third run on the first of the three jumps to end her gold-medal quest.
The slopestyle competition was expected to be a battle between Anderson and New Zealand standout Zoi Sadowski-Synnott, the reigning world champion. Instead, it became a battle between Sadowski-Synnott and a different American.
Through two rounds, Team USA's Julia Marino led the competition with all of the big names in the sport still having one run remaining. She survived Anderson's attempt, but not the 20-year-old Sadowski-Synnott, the last competitor in the event who was first in Friday's skopeside qualifying.
Sadowski-Synnott threw down a 92.88 in her final run to take the gold from a disappointed Marino, who settled for silver. Tess Coady of Australia finished with the bronze.
Sadowski-Synnott's gold was the first for New Zealand in the country's Winter Olympics history.
Marino totally nailed her second run, registering a score of 87.68, which included two 900s and a 1080. The silver was America's first medal in Beijing.
The 24-year-old from Westport, Conn., Marino was making her second Olympic appearance, following an 11th-place finish in Pyeongchang. The other American in the final, Hailey Langland, finished 10th.
Anderson was looking to tie a record for the most consecutive Winter Olympics gold medals in the same individual event. The feat has been accomplished several times, but speedskater Bonnie Blair is the only American to ever win three straight golds in the same event.
Anderson has dominated the slopestyle event for more than a decade. She has won eight golds at the X Games and has earned more total medals than any other woman in X Games history.