Are indoor ski domes, like the one proposed in northern Virginia, part of the future of skiing?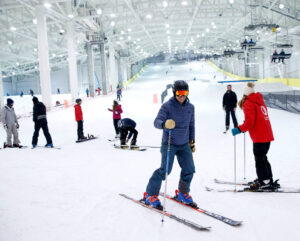 Alpine X has submitted a public-private partnership proposal to Fairfax County to build a 450,000 square-foot snow sports facility with an expected 1,700-foot ski slope. The facility's summit would reach an altitude of approximately 280 feet.
The Fairfax County location, near Washington D.C., may become home to the longest indoor ski slope in North America and one of the longest in the world.
A 400,000-square-foot snow dome will anchor the location, which will also feature a 200-room hotel, restaurants, a mountain coaster, tubing hill, zip lines, and a snow-play attraction.
Fairfax Peak is one of 20 indoor snow sports facilities that Alpine-X is tentatively planning. If the county approves the project, it is scheduled to break ground in around 18 months, and open in late 2024 or early 2025.
On its website, Alpine X says "our mission is to bring the mountain to you. We develop indoor snow sports facilities that provide an authentic Alpine experience to guests of all skill levels, while also making participation inclusive, accessible, convenient, and affordable to all."
Climate Change Impacting Ski Resorts: An indoor ski dome at this destination resort may be a viable option for frustrated skiers and snowboarders.
Indoor locations would provide another option in drought years. Weather implications from climate change have hindered Tahoe ski resorts and also ones worldwide over the previous decade.
This year only one Tahoe ski resort – Squaw Valley – recorded more than 300 inches of snow. Many of Tahoe's 14 ski resorts average more than 400 inches of snow each season. Yet that has not been the case in the past decade when it's often been feast or famine in regards to snowfall.
To offset the lack of snow, especially early in the season, practically all Tahoe ski resorts make snow when the weather is cold enough. But even snowmaking can't make up for a lack of snow from Mother Nature like this winter.
Most Tahoe ski resorts were open until mid-May, but only Squaw Valley Alpine Meadows was able to stay open into May. Typically, multiple resorts extend their season past April.
The Virginia facility may include:
Multiple ski slopes at approximately a 20-degree angle, including a slope compliant with the Fédération Internationale de Ski's standards ensuring it can be used for competitions.
A specially designed area for skiing and snowboarding with a variety of ramps, jumps, rails, boxes and other features, capable for use in national snowboarding and freestyle skiing competitions.
A bunny slope for beginners, snow tubing run and an area for skiers and snowboarders to perform tricks.
Restaurants, ski shop and sky bar and terrace at the summit.
A 100-plus room luxury hotel at the base of the indoor snow facility.
A gravity-powered, mountain coaster that will slide from the summit to Occoquan Regional Park.
A gondola to transport riders from Occoquan Regional Park and the facility's base to the summit.

The indoor ski dome proposed in Fairfax County in Virginia would be covered in man-made snow 365 days a year.
More Affordable Costs: Alpine X envisions lift tickets less expensive than at the nearest regional ski resorts, and rentals will be a fraction of the cost.
The slopes will be covered in man-made snow 365 days a year, and the dome will be kept at between 25 and 27 degrees.
The terrain will be divided by skill level – "our own version of green, blue, and black slopes," said Alpine-X CEO John Emery. The total vertical drop will be around 300 feet.
Indoor Facility Not Finalized: As a public-private partnership, Fairfax County would lease its land to Alpine-X. The company would build, own and operate its facility. This lease would be negotiated separately if the proposal is ultimately accepted.
The project will be contingent on the company successfully achieving any required land use entitlements to allow for the proposed uses. This process includes opportunities for community input, including public hearings and ultimately the Board of Supervisors' approval.
"By being in the community center, not two or three hours away from it, a lot of guests can come out for a couple hours, but they don't have to make a major commitment," Emery said.
New Jersey Indoor Facility: An indoor snow dome already exists at New Jersey's Big Snow American Dream, a 180,000-square-foot indoor ski hill that opened in December 2019. Emery says the two projects are pretty different.
Alpine X is most likely to build future facilities near urban areas in Texas or Florida, places with people who want to experience snow sports, rather than places that already have a high number of dedicated enthusiasts.
"Today, there are an estimated 9.2 million active skiers and snowboarders here in the U.S., a market that would be much larger if the sport were more accessible," Emery said. "Skiing is intimidating when you're not highly skilled. When you can introduce something in a more controlled environment, people respond better and are more likely to want to repeat the experience."