The snow totals at Lake Tahoe ski resorts in 2017 were incredible.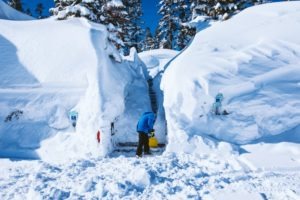 How good was the 2017 ski season in Lake Tahoe? Eight of the top-10 snow totals at North American ski resorts were recorded at Lake Tahoe area ski resorts.
It was arguably the most prolific season for snow totals in Lake Tahoe history.
As a result, ski resorts stayed open later that season than ever before. In fact, Squaw Valley was still offering skiing and riding from 8:30 a.m. to 12:30 p.m. on Saturdays throughout July. The famed Olympic resort had a large turnout for the Fourth of July weekend.
Sugar Bowl had the most snow among the Lake Tahoe resorts for the 2016-17 season, recording 795 inches. That put Sugar Bowl in second place among North American resorts, trailing only Mt. Baker in Washington, which had an astonishing 866 inches of snow.
Top-10 Snow totals for North American Resorts
Mt. Baker, Washington: 866 inches
Sugar Bowl, Lake Tahoe: 795 inches
Mt. Rose, Nevada (near Lake Tahoe): 768 inches
Boreal Mountain, Lake Tahoe: 751 inches
Squaw Valley, Lake Tahoe: 728 inches
Alpine Meadows, Lake Tahoe: 710 inches
Northstar California, Lake Tahoe: 709 inches
Kirkwood, Lake Tahoe: 702 inches
Brighton, Utah: 674 inches
Heavenly, Lake Tahoe: 659 inches
Another Lake Tahoe ski resort also surpassed the 600-inch level. Sierra-at-Tahoe accumulated 625 inches. Further south, California-based Mammoth Mountain recorded 618 inches. Mt. Hood in Oregon had 649 inches and Mt. Bachelor recorded 604 inches.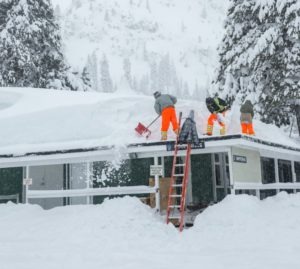 With a six-foot base of snow on the upper mountain in early July, Squaw Valley stayed committed to running as deep into the summer season as possible. It was the only resort in Tahoe still offering skiing and riding that late in the season.
"We are in the business of skiing and engaging creative solutions to take advantage of this historic snow year. It's an irresistible proposition," said Andy Wirth, ex-president and CEO of Squaw Valley Alpine Meadows. "To many of our guests, the idea of summer skiing and riding is a novelty. But with the season we've had we can provide a surface for skiing and riding that guests will want to enjoy not just once, but weekend after weekend."
Squaw Alpine spokespeople say there were 10 Atmospheric River weather events hitting the resort – the average season sees two to four. The California Department of Water Resources declared the 2016-17 water year the wettest on record, just over halfway through the water year (October 2016-October 2017).
In January 2017, Squaw Valley Alpine Meadows broke the resort's record for most snow in one month with 282 inches, followed by the snowiest February ever with another 196 inches.