Want to purchase a truck, yet don't care for a king-size one that's expensive, horrible on gas, and the ride quality is poor?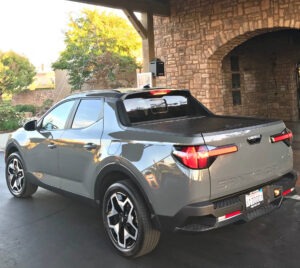 Then, perhaps it's time to consider a compact pickup truck. The 2023 Hyundai Santa Cruz is a compact four-door crew-cab truck that seats five passengers, has the driving dynamics of an SUV, and the versatility for transporting light loads.
And we do mean light. The four-foot bed has a volume of only 27 cubic feet. A retractable and lockable hard cover smartly protects the composite-molded bed that has anchor points, adjustable rails and tie-down cleats. The sliding bed top is terrific for storing items out of sight or simply a place to carry additional supplies. There are also three closeable storage pockets within the bed, including one in the floor.
The Santa Cruz's chief rival, the Ford Maverick, has a little larger bed at 4.5 feet long. Offered in has five trim models (SE, SEL, Night, SEL Premium, Limited), the standard Santa Cruz costs roughly $25,800, which places it above the price tag of the Maverick ($22,700). Another option is the larger Honda Ridgeline, a midsize truck that goes for around $38,900.
Hyundai gave the Santa Cruz some off-road capability. It has 8.6 inches of ground clearance and optional all-wheel drive, giving the truck the ability to travel safely along graded dirt roads and slippery surfaces. However, any major off-roading is not wise.
We drove the Limited model for a week and really enjoyed the extra performance. The Limited is far more powerful than the standard model, thanks to its turbocharged 2.5-liter, four-cylinder engine that generates 281 horsepower and 311 pound-feet of torque. It travels 0-60 mph in 6.5 seconds and has a maximum towing capacity of 5,000 pounds.
The front-wheel drive standard Santa Cruz engine is a sluggish 2.5-liter, four-cylinder that produces 191 horsepower and 181 pound-feet of torque. It goes 0-60 mph in 8.8 seconds. Both engines are paired with an eight-speed automatic transmission.
Based on the Hyundai Tucson crossover SUV, the Santa Cruz provides a smooth ride and is easy to maneuver in most tight spaces. Steering and handling are above average, allowing the Santa Cruz to navigate adroitly along challenging curvy roads.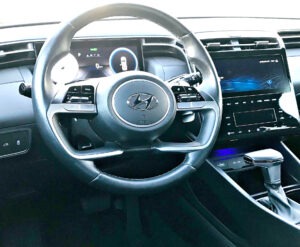 Driver safety features include forward collision mitigation, lane keeping assistance, blind-spot intervention, rear cross-traffic alert, automatic emergency braking, pedestrian detection, automatic high beams, and rear-seat alert.
AT A GLANCE – 2023 HYUNDAI SANTA CRUZ
Performance: 2.5-liter, four-cylinder, 191 horsepower; turbocharged 2.5-liter, four-cylinder, 281 horsepower
Mileage estimate: 21-25 mpg; 19-27 mpg
Price estimate: $25,800 to $40,600
Warranty: 5 years/60,000 miles; drivetrain: 10 years/100,000 miles; roadside assistance: 5 years/unlimited; corrosion: 7 years/unlimited
The Santa Cruz is more SUV-like than most trucks. That's evident in the interior that has standard features like heated front seats, remote start, satellite radio, and a power-adjustable driver's seat. Also standard is an 8-inch touchscreen that's easy to master, Android Auto and Apple CarPlay connectivity, six-speaker stereo, HD Radio, Bluetooth, voice recognition, and two USB ports.
A couple of things we don't like about the Santa Cruz interior is no buttons or knobs, and a back seat that is too cramped for most passengers.
Overall, the 2023 Hyundai Santa Cruz is a unique truck for folks who don't need a V8 with lots of hauling capability. The Santa Cruz is similar to a crossover SUV in ride and interior comfort, but has the added feature of carrying light loads.
Weidel on Wheels is featured regularly on www.tahoeskiworld.com. Auto writer Jeffrey Weidel can be reached at [email protected]. Follow him on Twitter at @jeffweidel.