One of the prime lodging considerations when we're visiting South Lake Tahoe is location. We're not enamored with huge, inconvenient walks and also not a fan of getting snarled in traffic, which can happen frequently at this gorgeous vacation spot that attracts tons of tourists each year.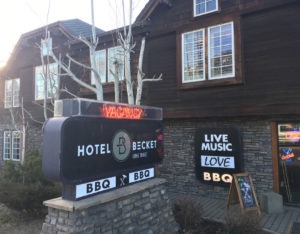 If the preference is for low-key, traditional lodging, we recommend giving the Hotel Becket a try. There's nothing fancy about the hotel, but we love that the weekday room rates are easy on the credit card – some days dipping as low as $99. Beware of the weekends, especially holiday ones, where the cost can escalate to nearly $400 a night.
Located across the street from popular Heavenly Village at 4003 Lake Tahoe Blvd., the Hotel Becket is right in the middle of everything – casinos, Heavenly ski resort Gondola, shopping, restaurants (there's a Starbuck's across the street), grocery store, golf course, and a convenient walk to check out the gorgeous, blue waters of Lake Tahoe.
We stayed at Hotel Becket for a couple of mid-week ski days in January and once we parked the car (parking is free; gotta love that) we didn't need it again until getaway day.
The Becket is billed as a boutique hotel. We would have to agree, since it meets many of the boutique criteria. The hotel is not a huge place – 164 rooms – and resides in an urban location. Each room is stylishly decorated, but certainly nothing over the top.
The room was very clean and featured a convenient chest of drawers that were perfect for two people. Other amenities were free Wi-Fi, a secluded area for hanging clothes (and storing ski gear), a sizable big-screen TV, small fridge, coffee maker, work-space area, large mirror for women to do their make-up, great overall lighting, and plenty of places to store miscellaneous items.
Our lone room complaint was the shower had subpar water pressure and surprisingly had no shelf for placing soap or shampoo.
Hotel Becket has an indoor pool that's seasonable, but the indoor sauna and jacuzzi can obviously be utilized year-round. The hotel is connected to a restaurant. We highly recommend Ten Crows BBQ, which has a menu comprised of traditional southern and soulful barbecue dishes that have their origin in the deep south.
Speaking of food, the Hotel Becket comes with a complimentary breakfast. The offerings are somewhat limited – cereal, hard-boiled eggs, biscuits and gravy, miniature muffins, fresh fruit, coffee and orange juice.
We found the employees were extremely helpful and offered a lot of good local information when asked.
For more information on the Hotel Becket, visit the website at www.hotelbecket.com or call 530 544-6000.