Healthcare workers can be rewarded for their commitment during the pandemic by receiving a free lift ticket Feb. 28 from Homewood Mountain ski resort.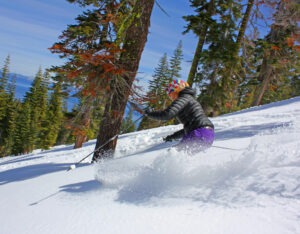 Over the past year, healthcare workers have made an indelible impact on communities around the country during the Covid-19 pandemic.
Homewood Mountain is giving away 200 free lift tickets, access to the mountain an hour before the general public, and a complimentary breakfast to 200 healthcare workers Sunday (February 28).
"We can never repay the hard work and sacrifices our healthcare workers have made – especially over the past year," said Kevin Mitchell, Homewood general manager. "As a small token of our gratitude, we're offering a free day of skiing and breakfast to 200 healthcare workers who want to take a break and spend time outside in the mountains."
Located on the West Shore of Lake Tahoe, Homewood is a family-friendly ski resort that features spectacular views of beautiful Lake Tahoe from every trail. The resort has snowcat accessed terrain and some of the best tree skiing among Tahoe ski resorts.
FREE TICKETS FIRST 200 HEALTHCARE WORKERS: Healthcare workers interested in participating are invited to sign up online, beginning Monday, Feb. 22 at 10 a.m.
The first 200 people who register and provide proof of employment related to the healthcare industry will be eligible to receive one complimentary lift ticket, early access to the mountain, and a hosted breakfast.
Complete rules and registration details can be found online here.
This ski season, Homewood has received 112 inches of snow at its base and 189 inches at the summit as of Feb. 18. It received 31 inches of snow at its summit during the past four days. With snow depths ranging from 95 to 148 inches, Homewood is open daily with eight lifts and 67 trails.
Learn more about Homewood's winter operations here or call 530 525-2992.