Being a season passholder at Homewood Mountain Resort in Lake Tahoe will have more value to skiers and snowboarders for the 2017-18 ski season.
For the first time, Homewood Mountain and its sister resort – Red Lodge Mountain in Montana – have partnered with Silverton Mountain in Colorado to offer reciprocal season passholder benefits during the 2017-18 winter season.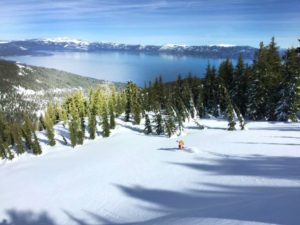 Red Lodge is located in Beartooth Mountains and just outside of Yellowstone National Park.
"This partnership offers additional value to all three resorts' full season passholders, and represents a new opportunity for skiers and riders to explore adventurous terrain at three of the best independently operated ski areas in California, Colorado and Montana," said Kevin Mitchell, general manager of Homewood Mountain Resort. "For Silverton Mountain passholders who are passionate about exploring backcountry terrain, Homewood Snowcat Adventures will give them an opportunity to experience the Tahoe backcountry, including some of the most incredible tree skiing in the region."
Homewood Mountain Resort and Red Lodge Mountain will provide 2017-18 full season passholders from Silverton Mountain with three days of complimentary, single-day lift tickets valid during the 2017-18 season with limited blackout dates.*
In return, Silverton Mountain will offer advanced and expert skiers and snowboarders with full season passes from Homewood and Red Lodge with one day of complimentary skiing or riding during its designated unguided season.
Additional 2017-18 full season passholder benefits include:

$100 discount on Homewood Snowcat Adventure tours for Silverton Mountain passholders (valid for "open tours," not full buyouts)
30 percent discount on guided skiing on Sundays in December and January for Homewood and Red Lodge season passholders who are advanced skiers and riders at Silverton Mountain (subject to availability and advance reservations)
30 percent discount on snow safety equipment rental (shovel, probe, avalanche transceiver, backpack) for Homewood and Red Lodge season passholders on all designated unguided ski days valid with this pass offer at Silverton Mountain
Snow safety equipment is required for all skiers and snowboarders at Silverton Mountain, and is not included. Season passholders must present their valid 2017-18 full season pass from their respective resort and an additional form of photo ID at the ticket office of the resort they are visiting to make use of these pass benefits. Tickets are non-transferable and must be used during the 2017-18 winter season. Weekday season passes and all other discount programs or passes are excluded from this offer.
For more information or to purchase a full season pass at Homewood Mountain Resort, visit www.skihomewood.com. Information on Red Lodge Mountain full season passes is available at www.redlodgemountain.com, and Silverton Mountain season passes at www.silvertonmountain.com.